ATV / UTV
|
Best practices
|
22.09.23
Tracked ATV & UTV Maintenance Guide
If you're like most folks in the
Camso Powersports Community
, then you're probably always looking for ways to maximize the performance and longevity of your Camso track system. Chances are you also enjoy maintaining your all-terrain beast yourself.
To help you take your tracked side-by-side further, we've put together this DIY tracks routine maintenance guide. It covers all the basics – how to install and maintain your Camso ATV/UTV tracks, what adjustments you should make from time to time, and how to clean your tracks to keep them running like new.
We even explain how to properly store your track system – should you ever decide to remove it.
CAMSO PRO TIP
Before using this guide, keep in mind that the recommendations provided are based on normal tracked ATV/UTV use. How you use your own tracks may differ a little… or maybe even a lot.

1. The frequency and type of maintenance you'll need to do on your Camso track system will depend on how much mileage put you on your tracked side-by-side or all-terrain vehicle – and under what conditions. Abrasive conditions and/or year-round use will mean more maintenance.

2. The maintenance intervals recommended in this guide can be adjusted based on your specific track usage. Regularly inspect your track system to determine if these intervals need to be adjusted. The more aggressively you use your side-by-side or all-terrain vehicle, the more often you should inspect and maintain the track system.
Below are all the components of a Camso track system that you need to be aware of before accomplishing your maintenance tasks.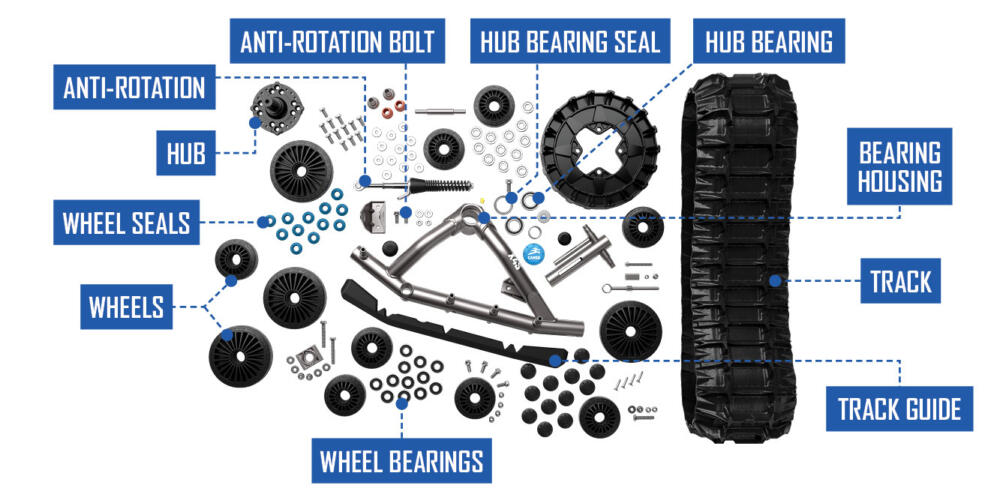 Common track maintenance tasks:
The following definitions will help you better understand the maintenance tasks mentioned in this guide.

Inspect:
Examine components with care. Repair or replace any components showing any signs of anomaly.

Clean:
Remove any dirt, dust or contaminants from components that could impair the proper operation of the track system.

Adjust:
Tune or readjust components according to the manufacturer's adjustment recommendations. Refer to the relevant section of the User Manual.

Lubricate:
Grease components according to the manufacturer's recommendations. Refer to the relevant section of the Owner Manual.

Replace:
Swap out component(s) showing any signs of anomaly to avoid serious breakage.


Find Camso track replacement parts
Installing a track system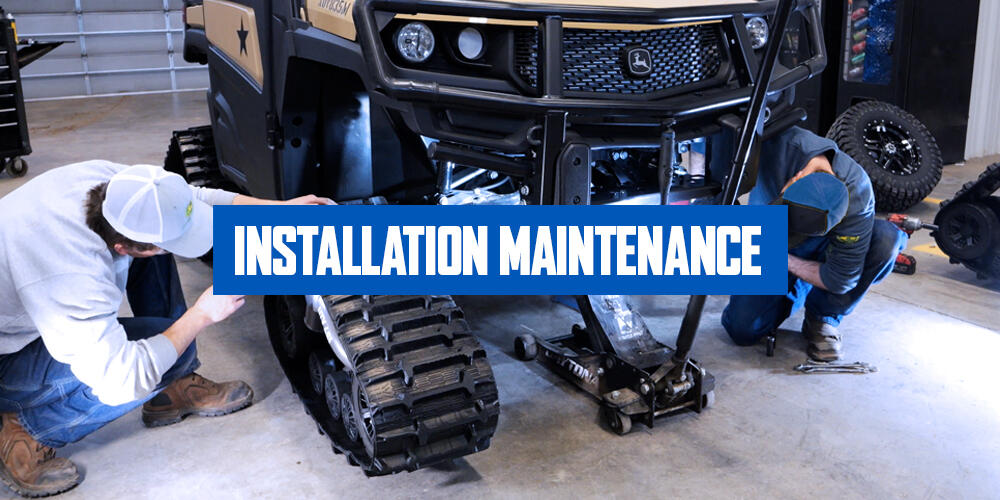 As a rule, we recommend having your local dealer install your track systems. It will have all the tools and experience already on hand, and ensure installation doesn't void the warranty. But we also know that a lot of Camso track system fans enjoy installing Camso tracks themselves.
If you decide to go the DIY route, we recommend reading this article:
How to install ATV and UTV track systems
.
It includes a how-to video showing a demo installation of Camso X4S on a Can-Am Outlander ATV, and lists the tools you'll need to install a track system on any off-road vehicle.

Installation maintenance checklist
Chomping at the bit to try out your newly installed Camso ATV/UTV track system? We get you. But before you do, follow these simple steps to make sure your tracks are ready to tackle the playgrounds for the very first time.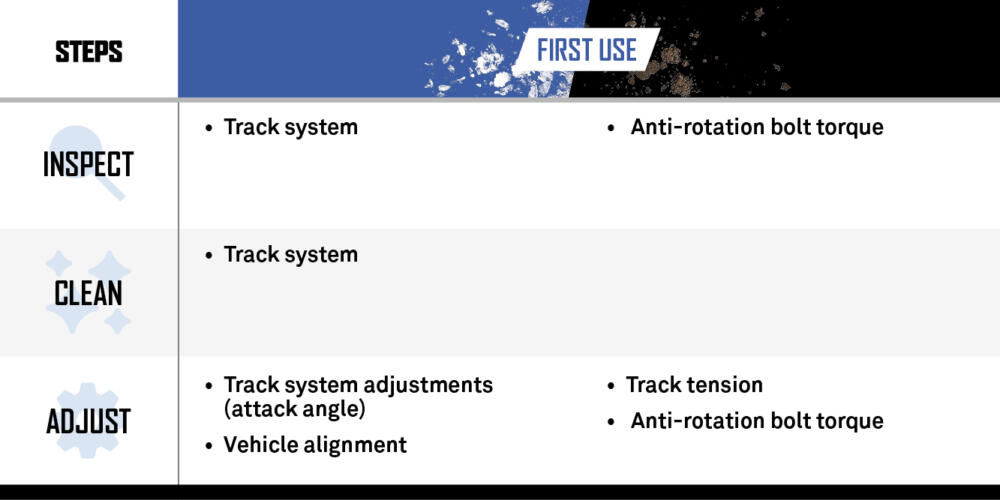 Routine riding maintenance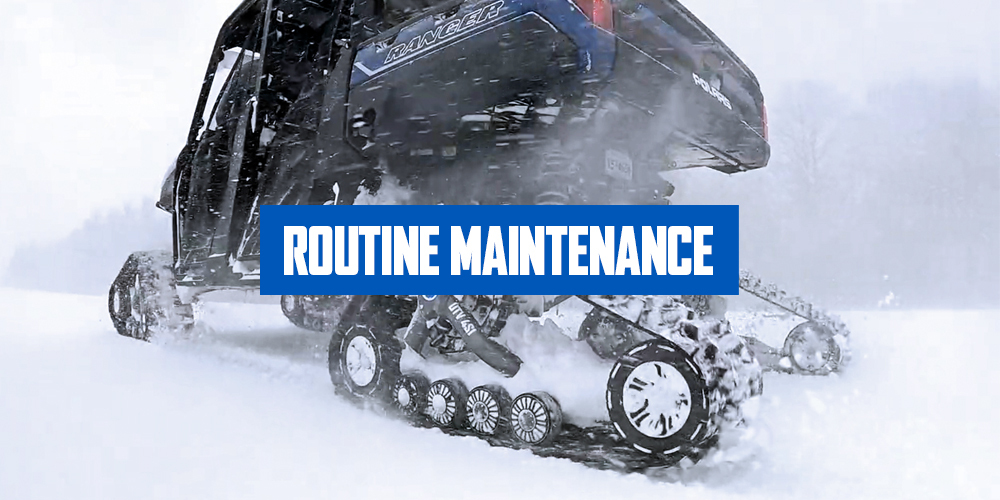 We can't say it enough: the best way to get the optimal performance and longevity from any track system is to regularly maintain your tracks. As you tackle tough terrains over the weeks and months, be sure to routinely maintain your track system.
Like installation, you can get your local dealer to handle routine maintenance on your beast, or you can do it yourself if you have the time and interest. The important thing is that you don't neglect routine maintenance. Unless your tracked side-by-side sits in the garage all year, annual maintenance is never enough.
Also remember that the more often you ride your ATV or UTV – and the harsher the terrain conditions, the more often your track system will require routine maintenance.
Routine maintenance is essentially the same for all Camso track systems, except for the
Camso ATV T4S
model. Because the bearings are molded into the wheels, the entire wheel needs to be replaced when the bearings become damaged or reach the end of their lives.
All other Camso track systems (
Camso UTV 4S1
and
Camso X4S
) have double-bearing bolted-on wheels for easier serviceability and maintenance (read: the bearings can be replaced).
You can find complete maintenance instructions for your specific Camso track system in your
Owner's Manual
, but below is a handy checklist that you can use as a reminder. It explains what to inspect, clean, adjust, and lubricate at key intervals based on usage conditions.

IMPORTANT:
Step 4 – Lubricating the wheel bearings and hub bearings is the most important step. Don't skip it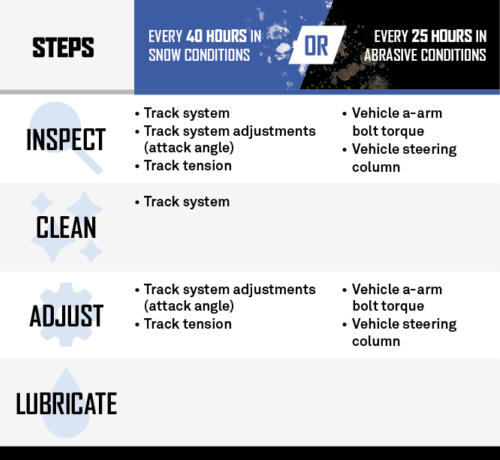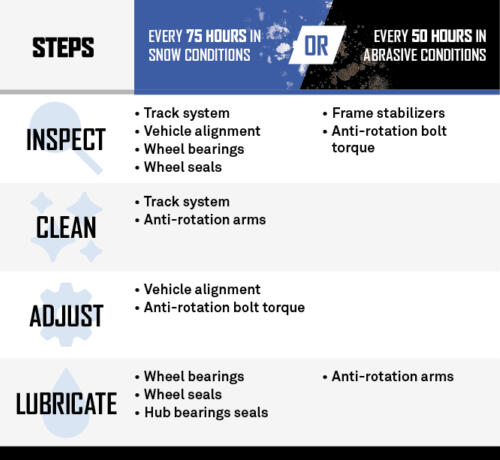 Periodic maintenance checklist
On top of routine maintenance, your track system also needs more thorough periodic maintenance. Again, how often you need to do this will depend on how many hours you clock on your beast and the conditions you subject your tracks to.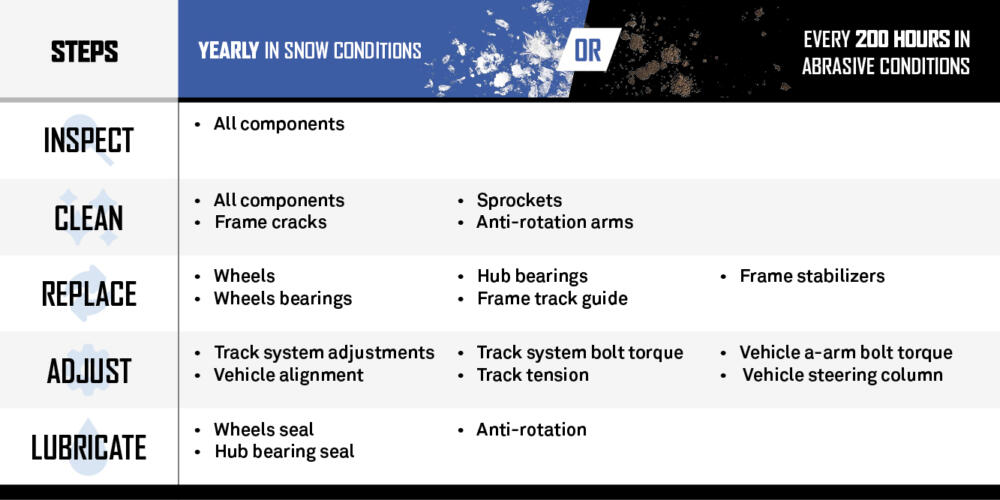 Removing, cleaning and storing a track system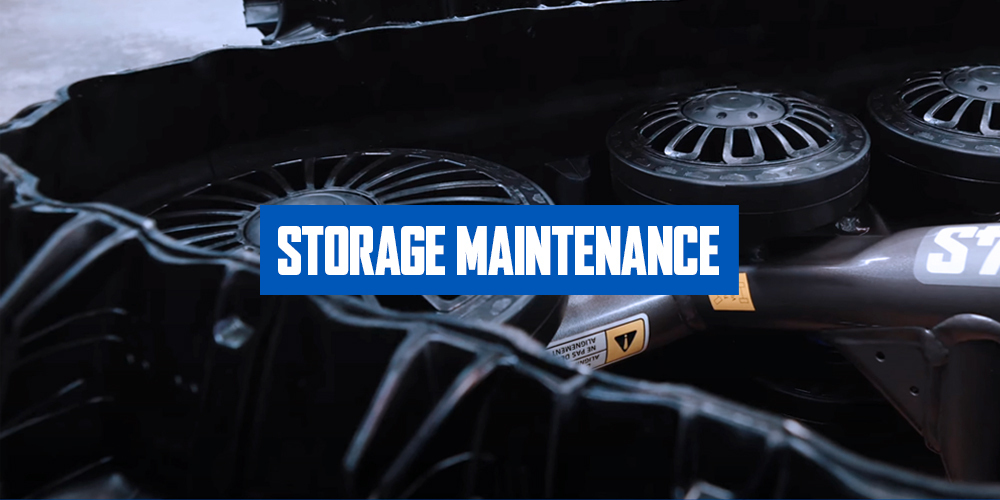 Plenty of folks like to use their tracked side-by-side year-round. But if you decide to swap out the tracks for tires, there are a few things you need to do before storing your track system so that it's in good shape and ready to go when you're ready to ride on tracks again.
Before storing your track system, start by doing the recommended periodic maintenance tasks mentioned above. Otherwise, contaminants can alter and corrode the moving parts of the track system during storage.
If you decide to go the DIY route, we recommend reading this article:
How to uninstall and store your ATV/UTV track system
. It walks you step by step, with photos, through the process.
CAMSO PRO TIPS
1. After removing the track system from your ATV or UTV, be sure to remove the anti-rotation anchor brackets attached to the suspension arms. Otherwise, it could cause interference which might damage your side-by-side.

2. When cleaning each track system, use a biodegradable degreaser and water to gently remove all dirt and debris. Work with care if using a pressure washer because the spray can damage rolling components.

3. When storing your track systems, place them horizontally on their side so that gravity can better disperse the lubricant. This will also prevent water from accumulating in the bearings and other parts so that they don't rust and potentially fail.
Treat your Camso track system with care and it'll treat you to years of great, reliable performance.
If in doubt about maintaining your Camso ATV/UTV tracks, refer to your Owner's Manual for detailed care instructions. Or chat with the Camso Powersports team directly on our
website
. We're here to help.
Have fun out there on your tracked side-by-side. We'll be looking for you out there on the playgrounds. And don't forget to share your adventures with us on social media.