ATV / UTV
|
Adventures
|
27.10.22
Minnesota ice fishing tips and tales with Ali UpNorth
The temperature is dropping, which means ice fishing season is not far away. Up in Minnesota, Camso ambassador Ali "Upnorth" Juten has just capped off another great
turkey hunting season
. Ali is now busy prepping her ice fishing gear and
Camso UTV 4S1
track system so that she can make tracks to her top fishing spots and start dropping lines as soon as the season begins.
And for all you outdoors and ice fishing fans out there, here are Ali's top ice fishing tips and tales.
Ali's top ice fishing spots in Minnesota
Minnesota enjoys a northern climate, which means a fairly long ice fishing season. Depending on the year, the ice can sometimes be solid enough as early as mid-November and stays that way until early spring. That being said, Minnesota's walleye ice fishing season ends in late February. Ali's been fishing her entire life, but only started ice fishing about 10 years ago when she met her husband, who introduced to her to the sport. She says she's been hooked ever since.

Ali lives in Duluth, a port city at the tip of Lake Superior in Minnesota. Lucky for her, because the local lakes near her home are teeming with great fishing sites. Ali says she enjoys ice fishing on smaller lakes, but at the end of the day, size doesn't matter. As long as it has fish.
"Fish can change their habits depending on the temperature and their access to food, so sometimes you have to be flexible about your favorite ice fishing spots."
So where are Ali's top ice fishing spots? Sorry, she never tells (not even on her
Ali UpNorth
Instagram account – experienced anglers like to keep their secrets, after all). But she is willing to share some of her top reasons to try (or return to) ice fishing this winter.
Ali's top 4 reasons to go ice fishing
• It's an outdoor activity you can enjoy during the long winter, which tends to be a less busy time of year for many. During the summer, Ali fishes, hunts and take care of her land and the farm.
• With the right gear and setup, you can stay quite warm and enjoy spending time outside.
• You can make the day whatever you want it to be: chatting with friends, socializing, having a drink, and relaxing. Ali says her best ice fishing partner is her husband, since he's the one who introduced her to the sport, but she often likes to bring the kids along, too.
• Driving your side by side on this frozen off-road terrain can be lots of fun.

Ali's typical ice fishing outing
Ali prefers to go ice fishing in the morning or in the evening when the fish are hungry and more likely to bite. She says she goes where the fish go, so her chosen ice fishing spot may change, depending on the day.
Here's what Ali's typical ice fishing day looks like:

The night before, she gets all her equipment together such as fishing rods, ice auger, baits, etc.

In the morning, she gets up before the sun and loads everything onto her sled and hooks it up to the back of her Polaris Ranger, equipped with the Camso UTV 4S1 track system, and heads out onto the lake.

When she gets to her chosen site, she sets up her tent and equipment, and starts drilling holes. She also uses her ice fishing fish finder to locate the fish.

She then sets up her ice fishing lines (Minnesota allows two per person). For bait, she'll use minnows if fishing for walleye, or jigs for crappies or other types of fish.

She's now ready to start catching fish and to make the most of the day.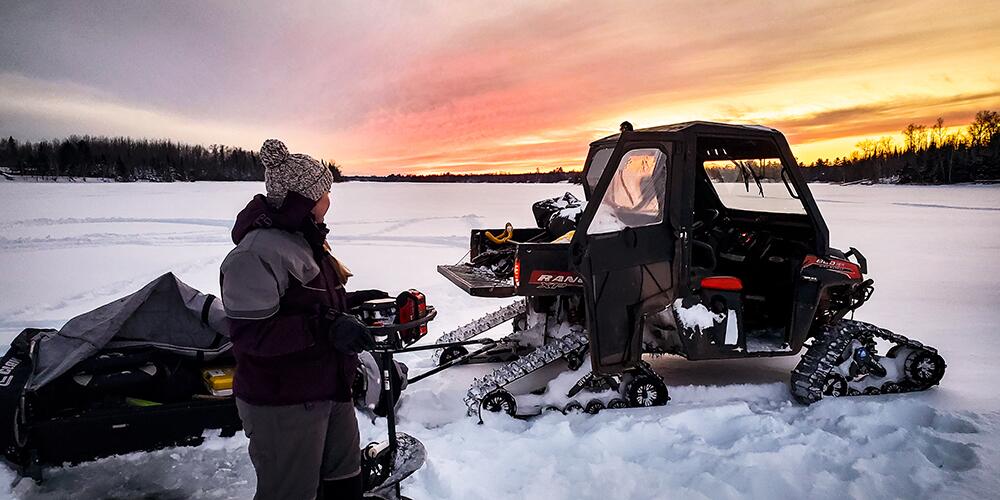 "My perfect ice fishing day is in March, when the sun is warm enough to feel it on your face. That, or a day spent hopping from hole to hole when the fish are really biting!"
The perfect ending to a successful ice fishing day? Taking your catch back home to cook up a good fish fry to enjoy with a cold beer that night.
Ali's ice fishing gear essentials
Ali's number one suggestion for ice fishing is to dress warmly. She wears a suit specifically built for ice fishing, provided by her collaborator
DSG Outerwear
for women. The suit is floatable and has padded knees – making it great for ice fishing.
You also need your ice fishing lures, jigs and tackle as well as an ice auger. Ali's ice fishing setup is a popup tent connected to a sled, which she hauls behind her side-by-side equipped with the
Camso UTV 4S1
track system.
She says this type of ice shelter is handy because she can store just about everything in the sled and keep it all covered while off-roading to her ice fishing sites. With her Camso track systems, she can get just about anywhere – just like a snowmobile – but with more flotation and traction.
She says this type of setup offers more space for gear, equipment and people, while providing a stable and secure way to get on the lake – with plenty of torque for carrying all the extra weight.
Once you try a track system, you're sold.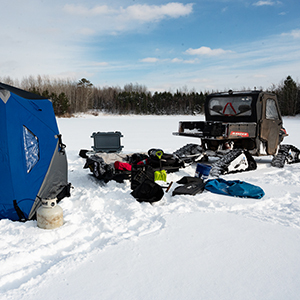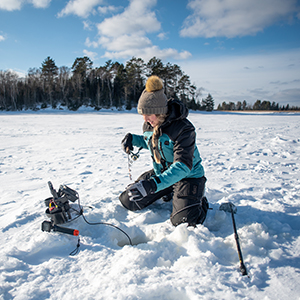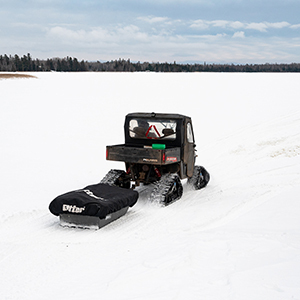 Ali's tips for women as an ice fisherwoman
Ali has long used her social media presence to encourage women to enjoy more outdoor activities. She says that while some women may be nervous about trying ice fishing, they really shouldn't be. It's easier than it seems and chances are they'll love it as much as she does. In fact, she's currently teaching her young daughter how to ice fish.
Ice fishing might seem intimidating at first, but once you know how to do everything, it's quite easy. Even making holes in the ice. Today's equipment is lightweight, so women can do everything by themselves.
Ali also strongly encourages women to go ice fishing to experience at least once the rewarding feeling catching fish can provide. Her top two ice fishing catches are the time she caught three Coho salmon in Lake Superior – which is unusual – and the 15-inch crappies she often gets at her secret spot (she says 4-8 inches is a more typical size).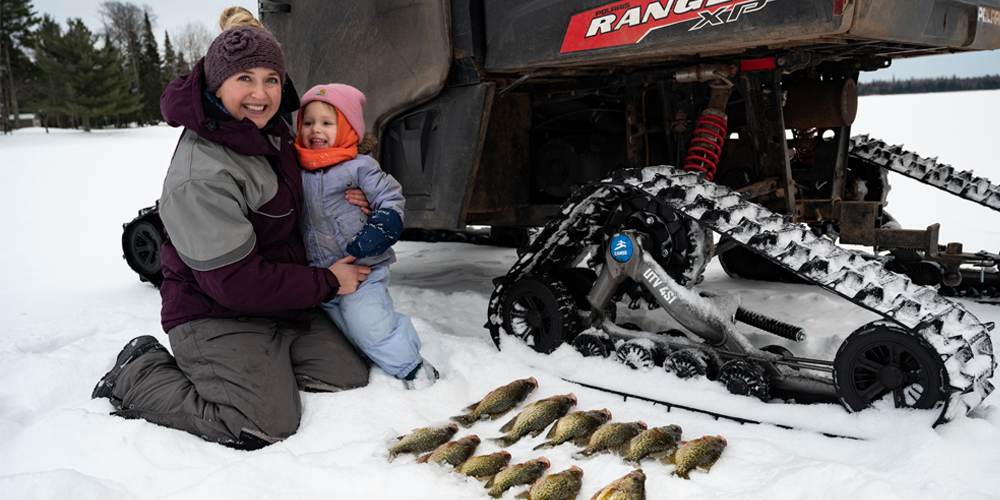 Ice fishing safety tips
Minimum ice thickness:
•Less than 4 inches – stay off ice
•4 inches – safe to ice fish on foot
•5 to 7 inches – safe to ice fish with a snowmobile or ATV
•8 to 12 inches – safe to ice fish with a car or small pickup

Drill a whole or use an ice pick to figure out the thickness.

Keep in mind that the color and quality of ice can change depending on the time of year, especially in the spring.

If you hit slush, but you are sure the ice is thick enough, it's usually possible to go out on the lake. Just avoid stopping so your vehicle doesn't get stuck.
See more ice fishing safety tips at
takemefishing.org
.
We want to see what's on your ice fishing line! Join our Camso Powersports community and share your adventures with other outdoor enthusiasts. Follow us on
Facebook
,
Instagram
and
YouTube
.
Have a great ice fishing season and stay safe out on the lake!