ATV / UTV
|
Adventures
|
20.05.22
Turkey hunting season in Minnesota on tracked side-by-side
We love to hear stories from the community and how our customers use our ATV and UTV track systems to do what they love. When it comes to Camso ambassador Ali "Upnorth" Juten, she's been putting her Camso UTV 4S1 to the test on various of her favorite activities, from
ice fishing
to family rides,
to get to the cabin
, and more. This spring, she tried them for turkey
hunting
for the first time. Let's discover how Ali's upgraded beast on track systems help her hunt beast... or should we say turkey!
Hunting turkeys, a challenging game
Wild turkeys are among the toughest games to hunt in North America. But that doesn't slow down Ali as she makes sure to get out and hunt for her trophy. Indeed, turkeys are smart, have a great vision and can be quite aggressive – they fight and beat up the decoys. Hunters need to be all covered from head to toe with camouflage and use calls and decoys to attract them. According to Ali, getting the turkeys to come is a cool and rewarding experience.

She started hunting turkeys five years ago with her dad in Minnesota. What she loves the most is that it's an interactive style of hunting with the calling and turkeys coming to you. She hunts both with a gun and a bow, which require two different techniques. Hunting with the bow requires getting much closer to the prey and is a lot more challenging. For Ali, hunting is about much more than getting her prey: it's also about taking the time to disconnect, watching the sun rise and set, and spending time outdoors with her family – she hunts with her husband, dad, brother-in-law and nieces, all while immersing in nature.
The 2022 hunt was amazing. I called, a few turkeys gobbled, I called, they gobbled again. And again. They came up the trail, crossed the field straight to my decoy. And there he was. What a rush!
Nothing goes to waste, since Ali's tradition is to smoke the turkey (yummy!) and to then share it with friends and family during the opening weekend of the fishing season in May. Best part of the meal? There's enough turkey for everyone!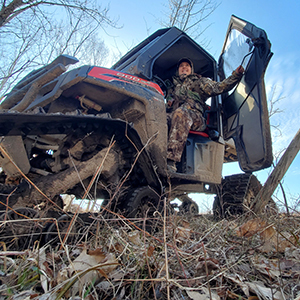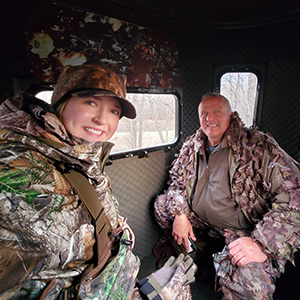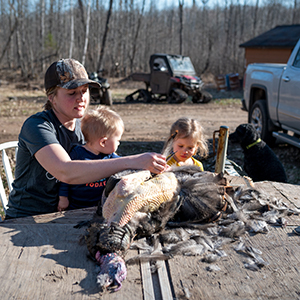 How does the side-by-side and track systems help with turkey hunting?
Ali rides a Polaris Ranger equipped with the
Camso UTV 4S1
track systems. She mostly uses the side-by-side to haul her gear, decoys, blinds, weapons, and the crew.
To get to our hunting grounds, we need to travel through various types of terrain including mud, swampy areas and since open season is in the spring, we often must deal with snow. The track systems are a great ally to provide flotation and to help us avoid getting stuck.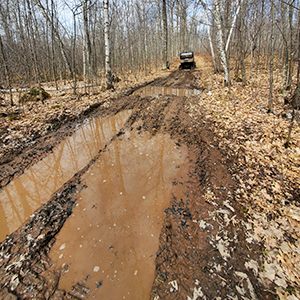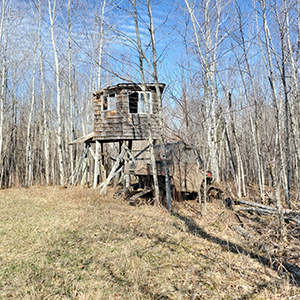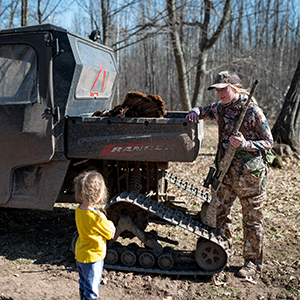 Face to face: anatomy of the beasts
Time for a face-to-face between Ali's two beasts, turkeys and the Camso UTV 4S1. Can you spot the similarities?