ATV / UTV
|
Best practices
|
06.04.22
Can I use my ATV or side-by-side tracks all year-round?
Designed mainly for winter conditions, most people use their track systems for all-terrain or side-by-side vehicles during this season and store them the rest of the year. But did you know that track systems can be used all year-round and that they have great benefits in many applications? Indeed,
taking care of your land
, accessing the
remote cabin
,
hunting waterfowl
, and farming are just a few examples.
If you are among those, like our collaborators of Roam Free Ranch, who live in regions where the weather conditions are changing and the terrains are challenging, keeping your track systems on longer might be something you should consider. And you're in luck because we're about to share how track systems can make your life easier, no matter the season.
Given the instability of weather conditions here in Montana, we always keep two of our vehicles on track systems at our ranch. In April for instance, some days we get snow, the next it's rain and the soil gets into all kind of conditions from hard and frozen to mushy and muddy.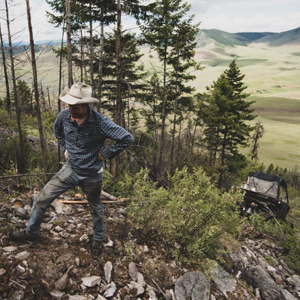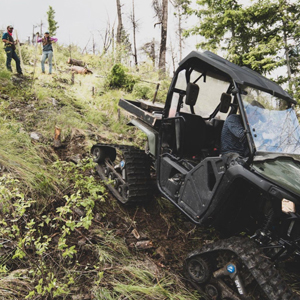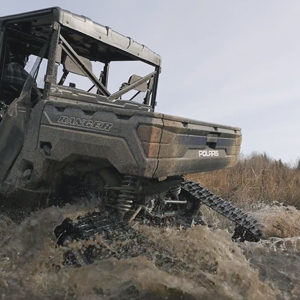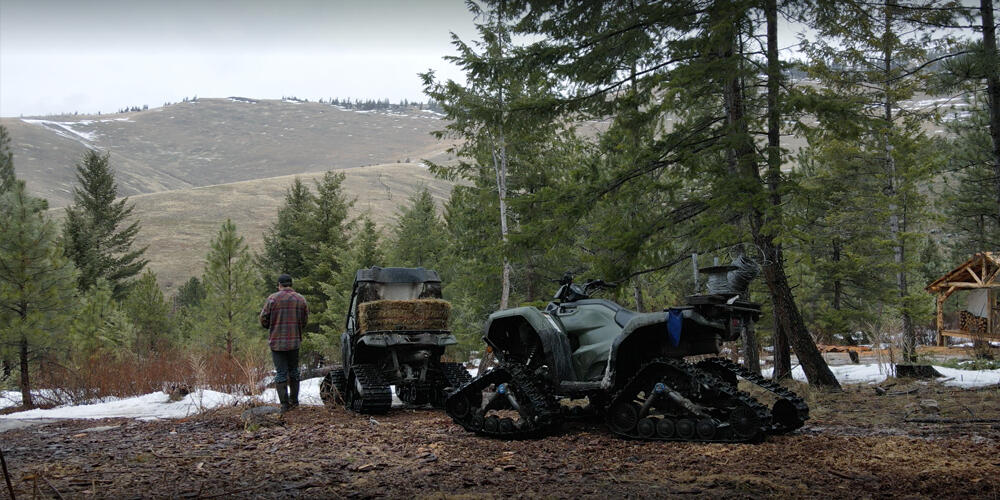 Seasons change, but not your working allies
Steep hills, mud holes, rocky areas and water streams are just a few examples of playgrounds where track systems make the difference. Add to that the mercy of mother nature with high winds, thunderstorms and even wildfires in some regions. There are four main areas where track systems make a huge difference:
When traction beats conditions
Track systems offer great traction when working on steep hills, and therefore offer an efficient way to carry equipment without compromising on horsepower – it can help you carry up to a thousand pounds of equipment on an UTV! Traction also is important when moving lugs, pulling hay, and building fences for instance. Don't leave any chores undone on your land thanks to track systems.
Get anywhere without a worry
If you are in an area with a lot of varying terrain with water streams, swamps, steep hills, or slippery rocks a more stable vehicle makes it a lot safer to travel. Track systems are your best ally for optimal stability and flotation when crossing these areas.
Reliability of a flat-free solution
When you own a large piece of land, you don't always have access to a trail to get where the job needs to be done. This means a lot of unexpected terrain, like fallen trees and sharp rocks to name a few. Track systems are a reliable and flat-free solution that allows you to pull all your equipment and get to any remote location on your land, no matter what. This is also true for emergency situations like wildfires when you want to be worry-free about your vehicle.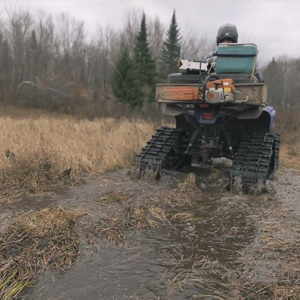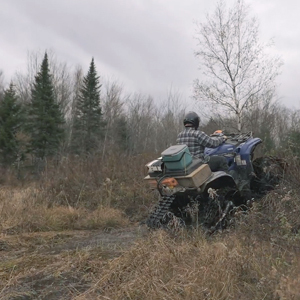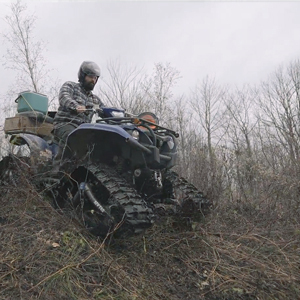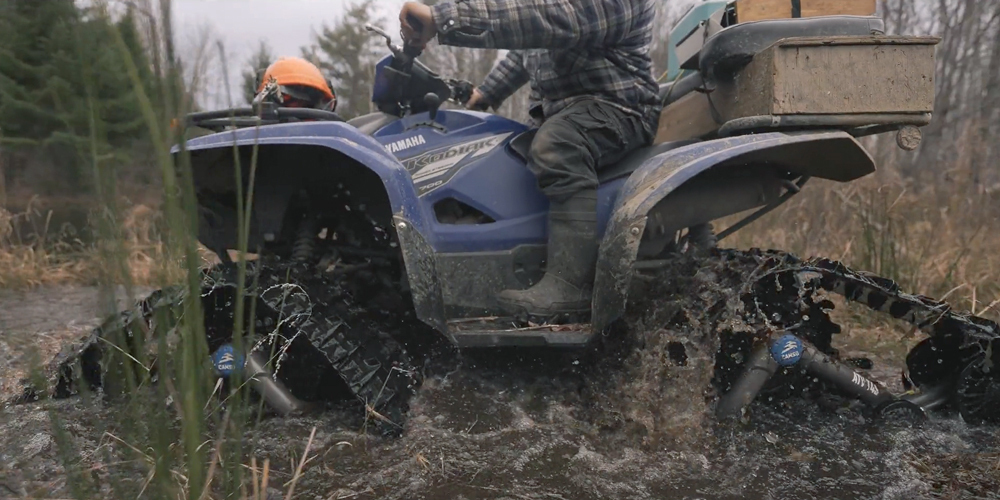 We're happy with the year-round results and improvements we've made in our operations thanks to Camso track systems. Before using track systems, we could change up to two flat tires per week, a huge waste of time and effort. Now our day-to-day is a lot easier and we can focus on caring for the land and the bison.
Track systems have low disturbance on the ground, helping to preserve soft or easily damageable surfaces like grass or wet soil in the spring. Furthermore, their large footprint helps to reduce soil compaction, keeping your land in better shape.
The track systems help limit damage to the land and ensure that we access all our terrain, in addition to offering a safer, more stable vehicle when working on very steep hills, traveling over areas with sharp rocks or crossing streams.
Track systems making a difference in all seasons
So, there you have it! While track systems are super awesome to play and work in the snow in the winter, they can also bring a lot of benefits to your vehicle all year-round. We hope this article was useful and that you'll be considering extending your season to meet the tough conditions you're facing!
PRO MAINTENANCE TIPS:
While extending the season of your track systems have several advantages, remember to remain careful when facing tough terrains and do frequent maintenance (consult your
Owner's Manual
for more tips). Small actions such as checking your track systems regularly, getting around important obstacles when possible, and riding slower can make a huge difference in keeping your track systems on top of the game.