ATV / UTV
|
Voice of Customer
|
25.06.21
Meet Blake, a waterfowl hunting enthusiast from Arkansas
We're always impressed and thankful to see our track systems for UTV being used in all kinds of activities, from work to play, hunting to fishing, and most of all, in all kinds of seasonal applications. Blake Williams has been hunting waterfowl for many years and even guiding fellow hunters for six years as they come down to South Arkansas to hunt ducks, Specklebelly and Canadian geese, and many other birds. How does he get to the hunting grounds? On a Polaris Ranger equipped with Camso UTV 4S1.
Can you share a little bit of details on where you hunt, the conditions and weather?
I mostly hunt in Southern Arkansas, and my dream destination is to head to northwestern Texas – down there they have Sandhill cranes, which are well known among fellow hunters as the "ribeye in the sky," it's one of the best waterfowls we find in the USA. Where I hunt, we're finding waterfowl in flooded rice and bean fields. There's not much snow here, maybe 1-2 inches annually tops, and some years no snow at all. I got the chance to test my track systems in the snow this winter, it was a lot of fun but it's not my typical use of them, as we mostly get water and ice.
When you combine cold weather with flooded fields, you get water in all its compositions from water to slushy-snowy mush and thicker ice crust. These are really tough conditions to travel in with the side-by-side, as often the ground isn't frozen so it's muddy, swampy, while there is an ice crust on the top layer that's tough and sharp. Everyone on tires has trouble getting around, I've seen many breaking their transmissions. The tires disturb the ground, people get stuck and need to dig themselves out. Luckily with the track systems, the vehicle rides on top of everything and it doesn't leave a footprint. It's funny there's not more of us on tracked side-by-sides out there, it takes so much of the hassle out of it.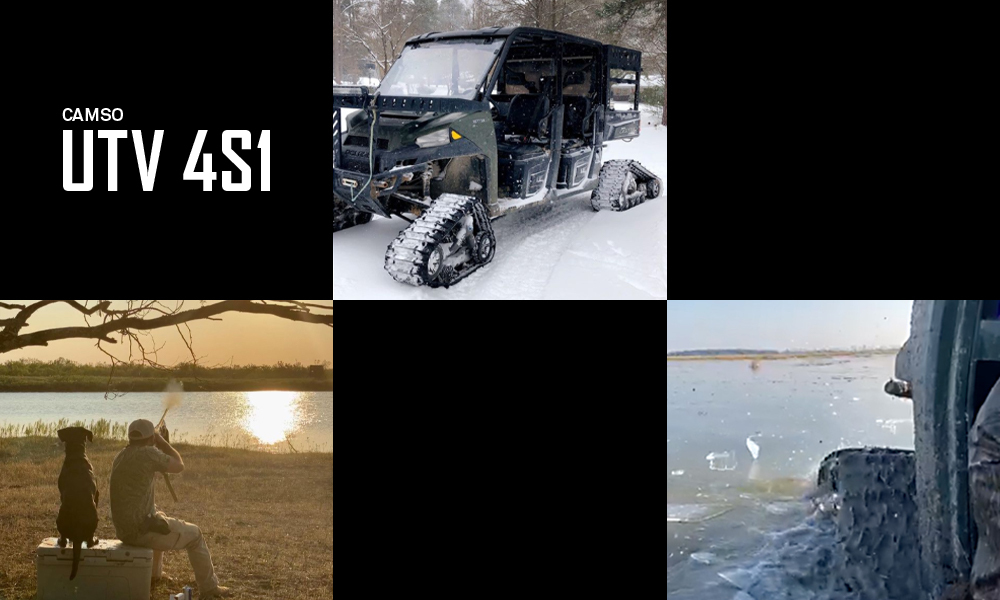 How did you discover track systems for your side-by-side?
It wasn't too long ago, I believe in 2019. It was my first-year hunting in the Delta and I saw someone with a side-by-side on track systems. That sparked my interest, I started reading on it a lot. Then later that year I ended up getting stuck with the UTV I owned at the moment, which was on tires. It broke down and I needed to buy a new one, I found my 2015 Polaris Ranger (900 cc) with track systems on Marketplace and after a test drive, I knew it was exactly what I needed.
Now when I stop at the gas station folks come up to me and ask a lot of questions, they're definitely interested. When we go out hunting, I'll hear hunters calling each other, saying: "I'm riding with Blake, he's got some tracks." The Ranger's really made to work, it's a reliable ride and I usually take out 5 people on it. And I mean it, for me it's not about going in mud holes or spinning in mud, it's about getting there to hunt. And I don't want to waste time in repair.
What about the performance of the track systems and customer service?
I just love the track systems. The previous owner didn't do proper maintenance, but I make sure to keep it all under control to ensure they'll last and perform. So far, I've had a couple boogie wheels to replace because of the other owner didn't wash and grease them. You need to be ready when hunting season comes and maintenance is all about that! We're in the mud for 60 days with the machines and we take them to the harshest environment of the waterfowl world.
The good thing about the track systems is also that if you know a little bit about mechanics, they're a piece of cake to service yourself. You can always find the parts you're looking for under the replacement parts section on Camso's website to easily order them. Like for the boogie wheels, since there are no Camso dealers in my area, I reached out to a dealer in North Dakota, but they just had the track systems, they didn't offer parts and service. I went online to Camso's website, found the customer service and gave them a ring. I got great service from these guys and it took less than a week to get my replacement parts. Even if I had no local dealer!
Anything else you'd like to share?
I'm very happy I made the switch to a side-by-side equipped with track systems, it makes my life so much easier and hunting even more fun! We get there each and every time, to need to worry about getting stuck and damaging the fields. I'd say that after the Ranger on track systems, my best ally is Koda, my American Lab. He's just the best, having a dog out there can turn any bad hunt into a good hunt.
This is it for our interview with Blake Williams, seasoned waterfowl hunter from Southern Arkansas. We hope you enjoyed this testimonial and that this story will inspire others to dare take their track systems off the beaten path! If you are considering purchasing track systems for your side-by-side, please do not hesitate to contact your local dealer or our customer care team!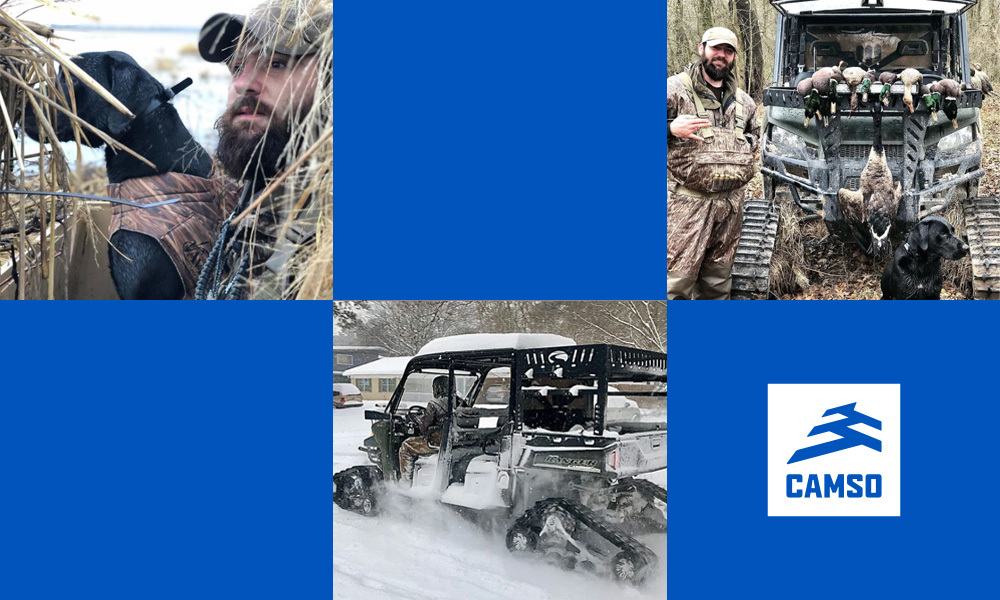 ---