ATV / UTV
|
Adventures
|
27.07.22
Meet Max Béland, the trout fishing pro
We love talking to folks who get to spend their days doing what they love most. Even more so when they're members of our large Camso Powersports community. Max Béland is one of them. As the owner of the Club Hosanna outfitter club, Max is living the good life – outdoors. He splits his time farming, hunting and fishing. But whatever the day brings, you can be sure of one thing: Max loves every minute of it.

We managed to get always-on-the-go Max to slow down long enough to share some of his top trout fishing tips and stories with us. Get to know one of the expert anglers in our growing Camso Powersports community.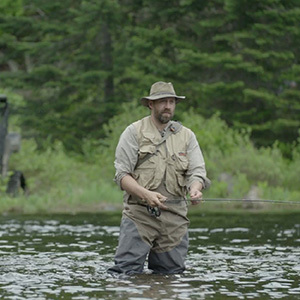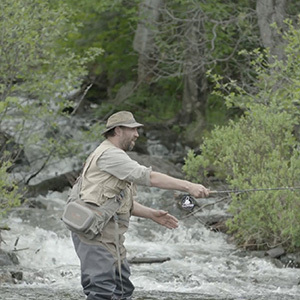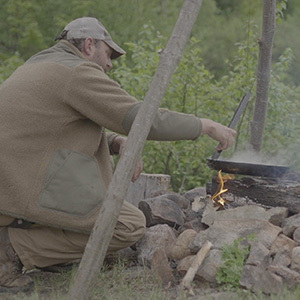 Making unforgettable memories while trout fishing
Max has been fishing since he was 5 years old, learning on rivers, lakes and streams. He started angling on his own at 8 – or rather "pretending" to fish in ditches.

After all these years, Max still remembers the thrill of his first catches. It's why he loves fishing with his kids and those who are kids at heart.
There's nothing like seeing their eyes light up when they reel in their firstcatch. It's a privilege to share this moment that they'll remember for the rest of their lives.
Club Hosanna has 30 well-stocked lakes to keep anglers of all levels happy. Those who enjoy trout fishing will find three species: speckled, gray and rainbow.

While speckled trout have a gorgeous color, and the stealthy gray trout makes for a satisfying catch, Max's hands-down favorite is the rainbow. He says it's a combative fish that frequently jumps out of the water, which makes for a more exciting and interactive catch.
When asked about fishing tips, Max says the trick is to be patient, know your lake well and above all, follow the wind.
Wherever the wind is blowing, that's where the fish are. Fish food moveswith the wind, so analyze the wind direction and go where the tip points. The fish will be there, waiting for food to pass by.
Reaching the best fishing spots
Seasoned anglers know that the best fishing spots are often the hardest to access. The region of Canada where Max fishes is rich Boreal forest. It boasts an impressive variety of flora and fauna, but also very rugged terrain. Depending on the time of year, there's a very good chance you'll be driving in either deep snow or deep mud. And thanks to climate change, sometimes both on the same day.
Max uses Camso
UTV 4S1
track systems to reach his favorite spots when the terrain becomes particularly challenging. He says they easily float over swamps, snow, mud and debris, making it easy to transport his boat down narrow paths and rough terrain.Need an all-terrain track for your ATV instead? Check out the impressive performance capabilities of our
Camso X4S
.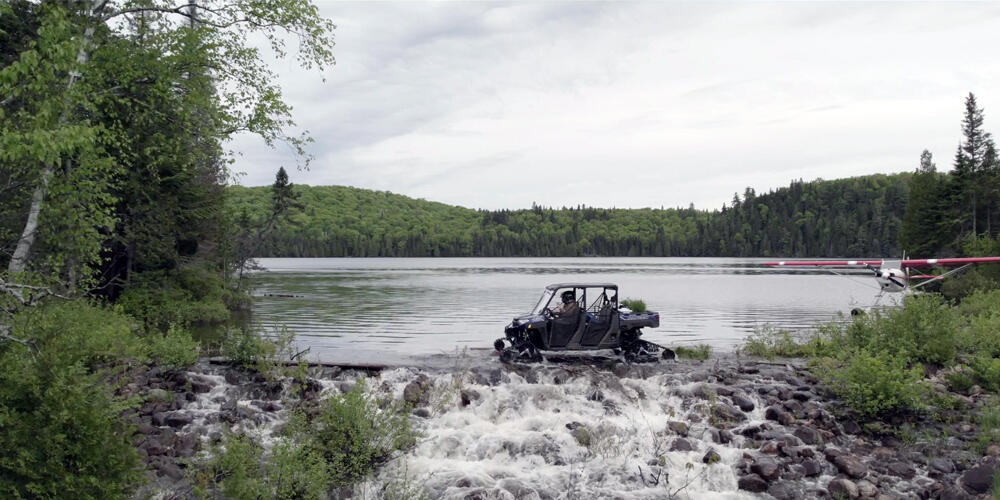 Max's top catch of all time
One of Max's fondest fishing tales is the time he went on an expedition with his father and some friends while still a young lad. They headed out on mountain bikes, dragging a Zodiac and all their food and gear through more than a quarter of a mile of dense forest before finally reaching a huge fishing hole at the bottom of a waterfall – a site known as "Pig Lodge". His father had previously visited the spot and had even found traces of Native people. More than just a great fishing spot, it was teeming with history.

Decked out in headband and torn jeans, and with his trusty Zepco 404 rod in hand, Max cast his line from a stone-cut step beside the flowing 20 foot-wide river. He immediately felt a powerful tug, followed by a series of jerks. For a split second, Max spotted a glimpse of a huge trout... before it disappeared.

He wasn't successful on that first try, but it didn't take long for Max to finally hook one – a sixteen-inch, two-and-a-half pounder. Max says it may not have been the biggest catch of his long fishing career, but it remains hands-down his best.
My heart was pounding so hard I thought it was going to burst right out of my chest. I'll never forget it
These days, Max mostly practices fly, light line and plumb line fishing. But his heart still pounds whenever he feels a tug on his line. There are some things you never grow out of.

Fishing is just one of Max's many outdoor passions. Check our blog regularly for upcoming articles in which Max shares his top hunting and farming stories.