Material Handling
|
Road Free
|
04.10.23
Solideal On-Site Service: an appealing service to the material handling industry
In the manufacturing world, specifically in the logistics, and distribution sectors, forklifts are pivotal to ensuring seamless operations. Sustaining optimal operational efficiency and averting equipment-related incidents demand exceptional attention. With a comprehensive array of services tailored to address forklift tire maintenance needs,
Solideal On-Site Service
(SOS) has emerged as an indispensable ally for numerous companies in the material handling industry.
Camso's service division provides on-site mounting and dismounting of forklift tires (
mobile tire press
),
fleet analysis and management
,
polyurethane tire fill
, and
tire regrooving
. Today, we delve deeper into what has propelled Solideal On-Site Service to such heights of success, and the strategic decisions that paved the way for their journey to market leadership.
The partner of companies aspiring to greater heights
SOS firmly believes that offering tires without accompanying service falls short of meeting the needs of its clients. In an industry where downtime hampers productivity, providing immediate assistance empowers customers to keep their operations in motion, fostering heightened production. What sets Solideal On-Site Service apart is its "just in time" approach. Why not go directly to the customer to service their forklift tires? With a network of 280 mobile units and over 160 branches spanning 15 countries, technicians ensure a
local presence 24/7
. SOS now boasts the largest fleet of mobile presses in both North America and Europe.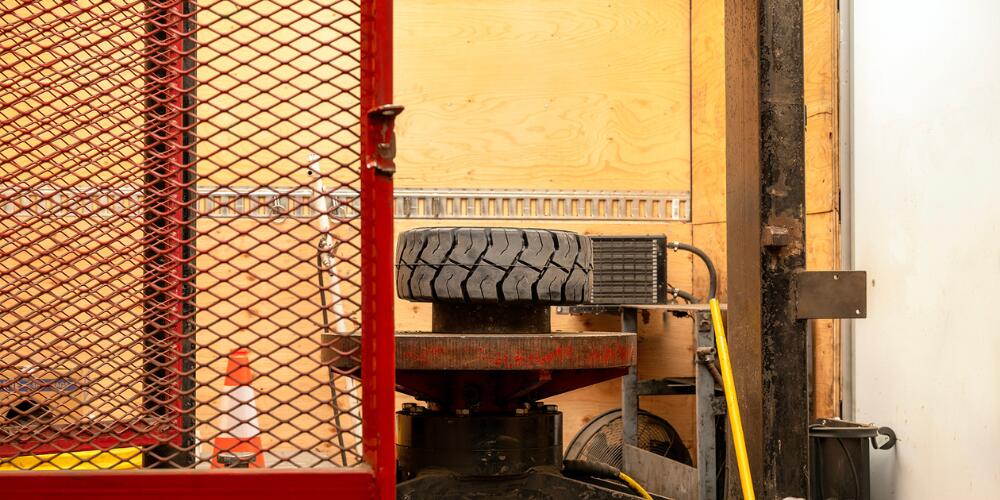 Driven by authenticity, professionalism, and expertise, SOS has unequivocally established itself as the market leader. Testimonials from esteemed clients like
Toyota Material Handling
Atlanta (TMH) attest to this:
SOS has proven to us repeatedly that they are the experts in their field. Every time we face a challenge, they have offered us a solution and that is why we trust their team.
The key ingredients: quality service, global uniformity of services, and ground-level expertise.
The core of success at Solideal On-Site Service
At the heart of Solideal On-Site Service's success lies an operations management system, implemented to meet customer needs and enhance overall experiences. The 24/7 call centers,
solidealonsiteservice.com
website, and on-site consultations facilitate swift handling of customer inquiries. The teams share a singular objective: providing tailored and personalized solutions to each client.
Representatives meticulously consider factors like ground type, load capacity, and daily travel distance when recommending the right tire. In addition to their advice, an
intensity calculator
is available online to help customers measure the work done by the tires of their forklifts. The ultimate goal is to deliver sustainable solutions and the most fitting product for the customer's usage.
Last but not least, the technicians possess comprehensive knowledge of all tire technologies on the market (
Bias
,
Press-On
, Radial,
Resilient
), alongside expertise in vehicle mechanics. Their proficiency is paramount, as they are in regular contact with customers, striving to deliver the highest caliber of service.
The key ingredient: admitting that you can't put a price on peace of mind!
Collaboration, an engine of success
SOS forges meaningful connections with its partners by fostering values of mutual aid and respect. Solideal On-Site Service believes that when two stakeholders evolve in the same direction, expansion opportunities multiply SOS contends that through the exchange of knowledge, everyone can enhance their grasp of the market and better serve their respective customers. Thus, transparent communication is pivotal in professionally addressing the daily challenges that arise.
The recipe for success: SOS team members are devoted to their customers and fueled by authenticity.