Material Handling
|
Road Free
|
04.10.21
Discover the world of ports and terminals in five questions
The port industry is a fascinating and mysterious world. Many of us only know of them through crime movies depicting shifty dealings in their dark underbellies. Few of us understand their highly streamlined round-the-clock operations that keep the world supplied with all manner of goods—or the machines that keep these operations running.
We were curious to learn more, so we sat down with our port expert, Dominique Morel, to find out how millions of shipping containers get loaded onto and off ships around the world each day. And because we are obsessed with tires, we obviously asked about that.

Camso tires are used for terminal tractors and trailers, container handlers, as well as other vehicles working in ports worldwide to meet safety and vessel turnaround time challenges.

#1: What's the difference between port and terminals?
A port can be described as a geographical location—such as the Mina Jebel Ali port in Dubai or the Port of Rotterdam—and it can be extremely large. The Port of Rotterdam stretches over 25 miles (40 km) and is the largest port in Europe.
Only some ports are large and deep enough to accommodate the largest ships and even then, the ship may need to wait for the right tide to enter the port and unload.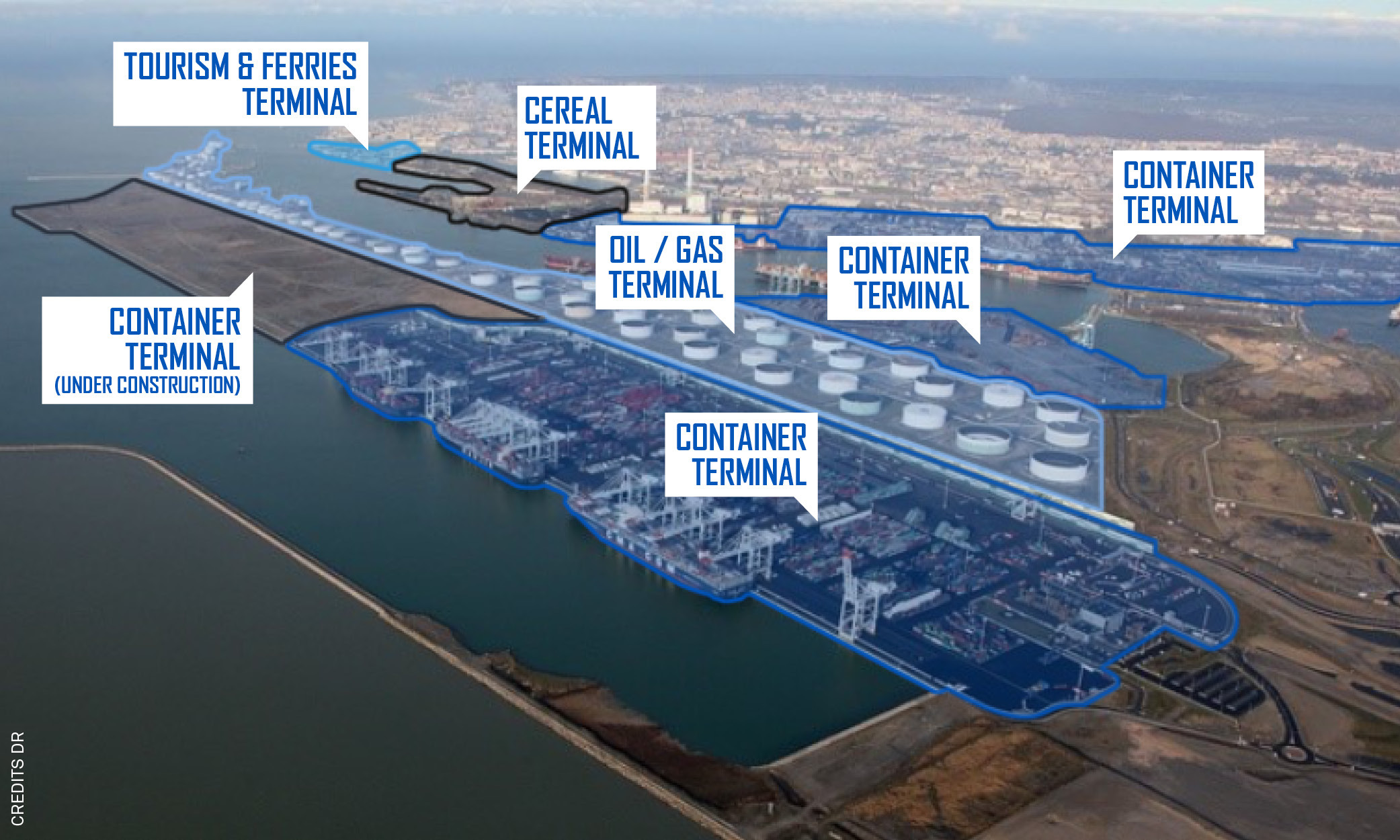 Ports are divided into terminals. Depending on its size, a port can have anywhere from a couple to several dozen terminals. A terminal can be described as a set of docks, each with its own focus. Some load tanker ships with oil, hydrocarbons and petrol, while others have access ramps and parking spaces for loading/unloading vehicles. Still others have silos for imported/exported grains.

Each terminal of the port is operated by one or more competing private operators, which have been granted a concession or lease to load and unload ships for a certain number of years. These operators are solely responsible for all loading and unloading activities. In contrast, the port authority (often a public entity, but sometimes private) manages the port's external infrastructure—railroads, roads, etc. to ensure goods can easily enter and exit the port on land.
A few large terminal operators include APM Terminals, Dubai Port World (DPW), and Hutchison Port Holding (HPH).
Shipping containers are a common sight at ports. The standard container length is either 20 feet (fitting two standard-size cars) or 40 feet (about the size of the trailer of an 18-wheeler). How much container traffic a port can handle is measured in twenty-foot equivalent units (TEUs). It's common for a port's traffic to be in the millions of TEUs.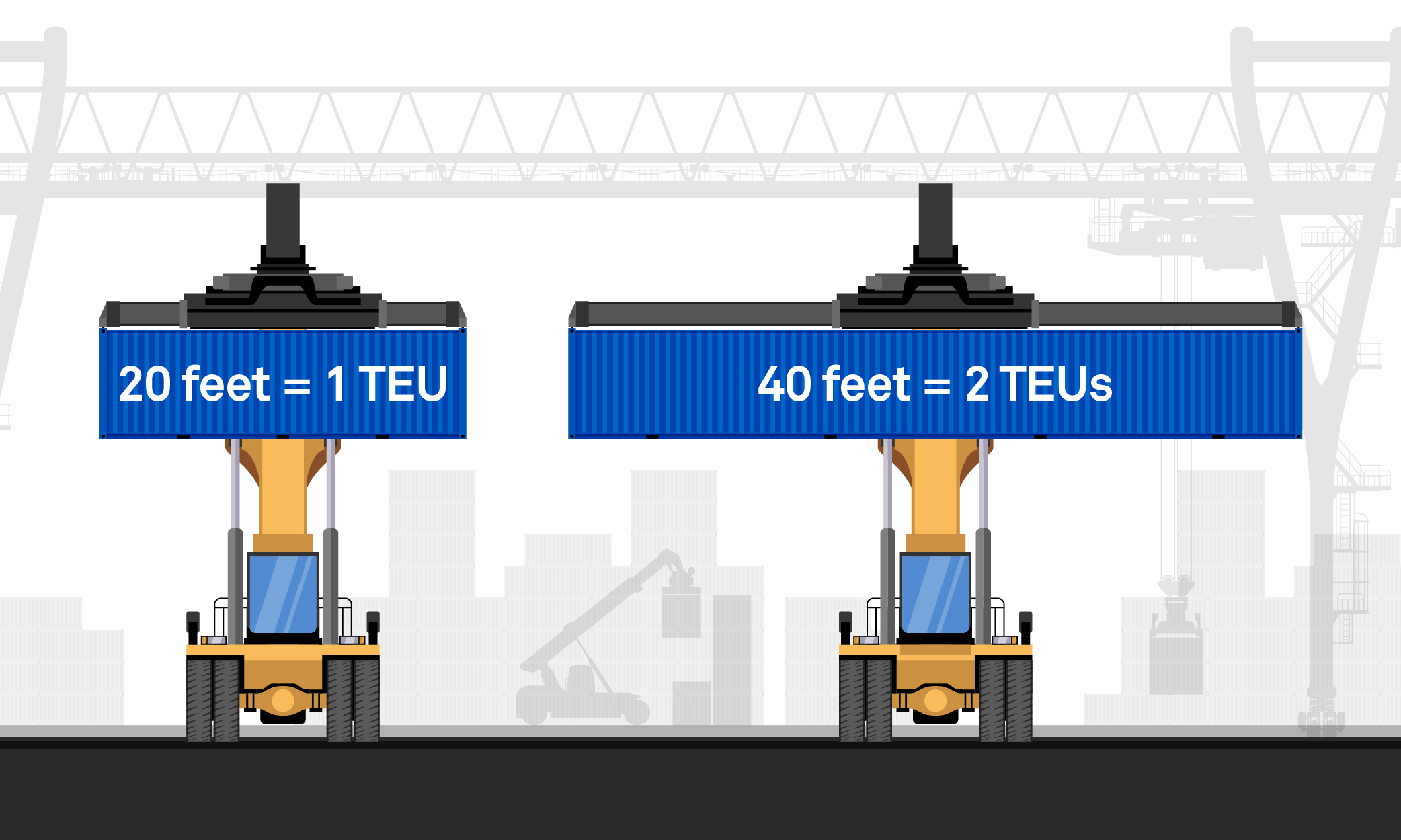 #2: WHAT ARE THE BIGGEST PORTS IN THE WORLD?
Given China's heavy focus on exports, it's no surprise that it dominates the list of the world's biggest ports.
Five biggest ports worldwide*:
1. Shanghai (China)
2. Singapore
3. Shenzen (China)
4. Ningbo-Zhoushan (China)
5. Guangzhou Harbor (China)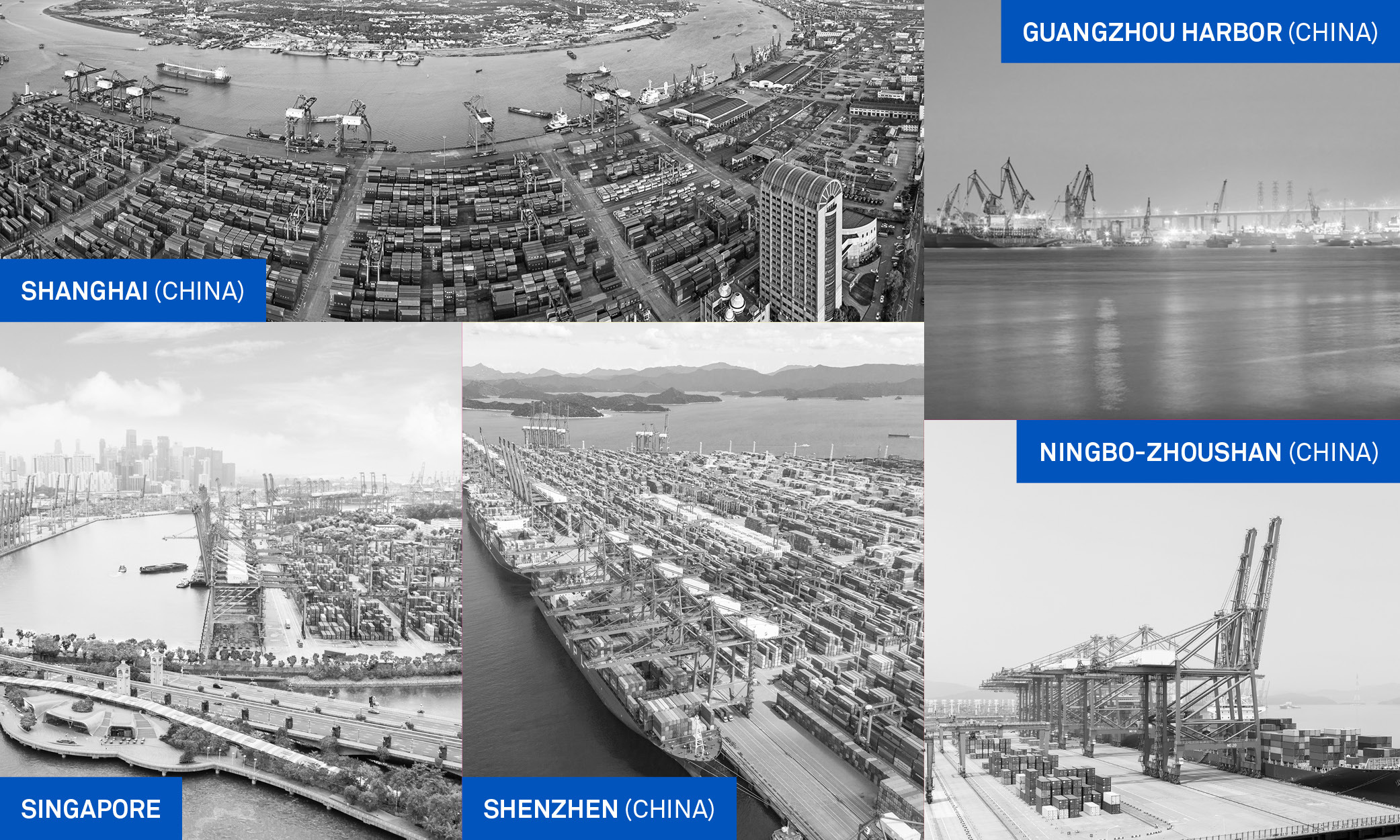 #3: WHAT ARE THE DIFFERENT VEHICULES WE SEE IN PORTS? What exactly are they and what do they do?
There are four main activities at a container terminal:
- QUAY OPERATIONS: getting the ship in an out of the port
- CRANE OPERATIONS: transporting containers from the dock to the stacking zone
- YARD OPERATIONS: stacking the containers
- GATE OPERATION: loading of the containers onto trucks or trains
These activities also happen in reverse.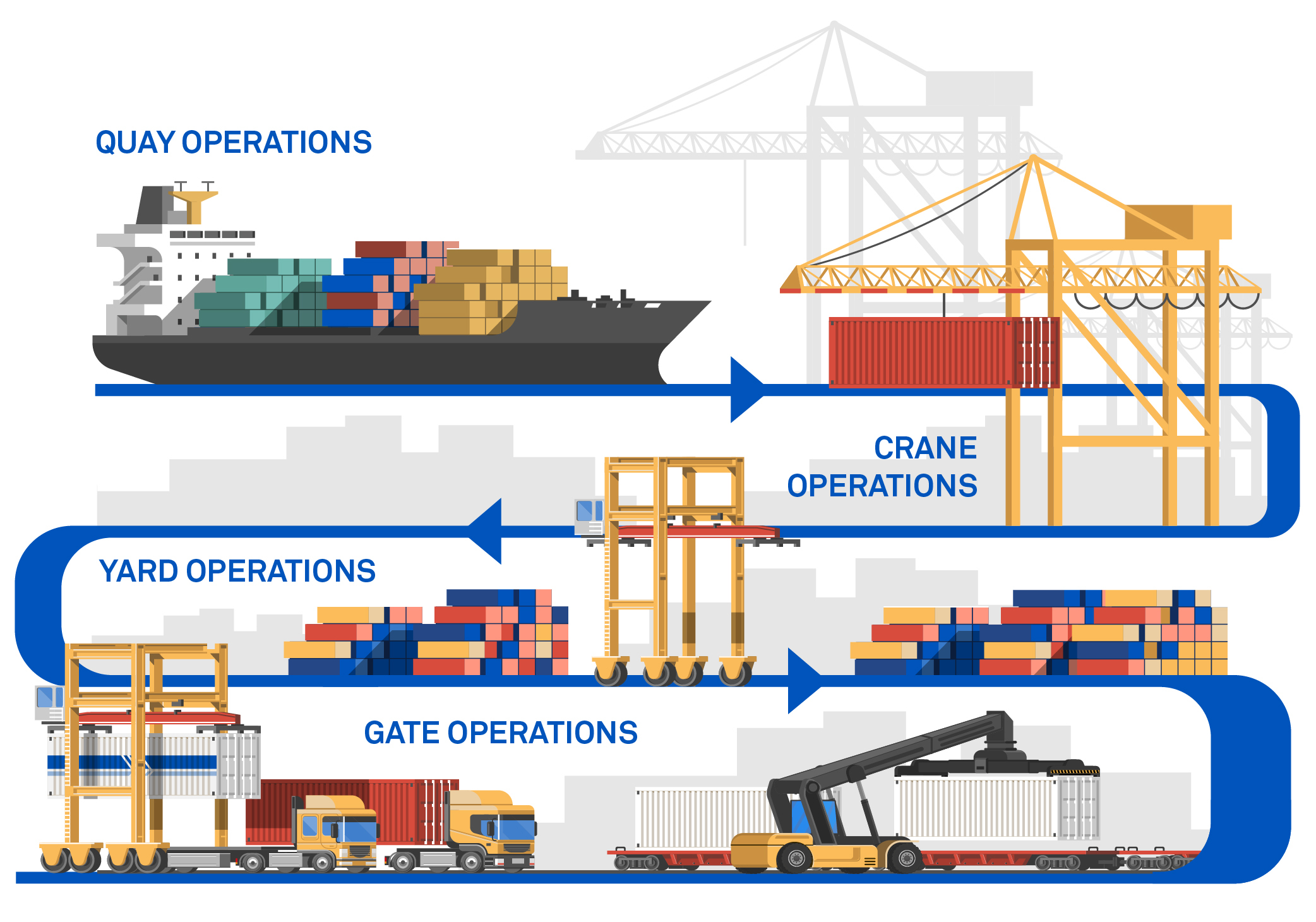 A number of common machines make this flow happen:
Straddle carriers: used for transporting and stacking containers up to 4 high. Can also load containers onto trailers leaving the port—8 tires.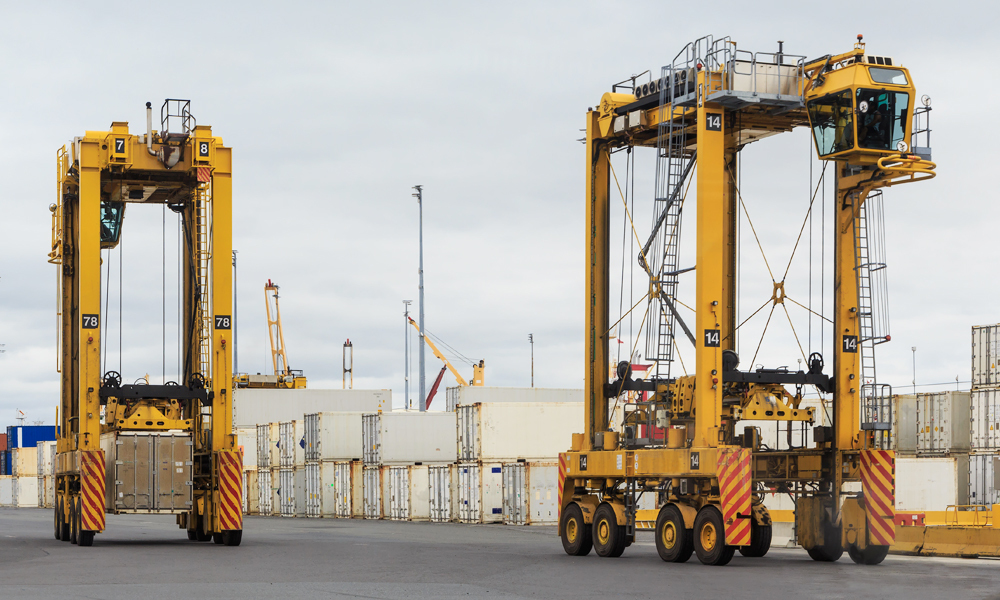 Terminal tractor and trailers: used for transporting containers from the dock to the stacking zone. Since torque is more important than speed when transporting heavy loads, these trucks have a max. speed of 25 mph (40 km/h) and lots of windows for driver visibility—6 tires (tractor) and most commonly from 8 to 12 tires (trailer).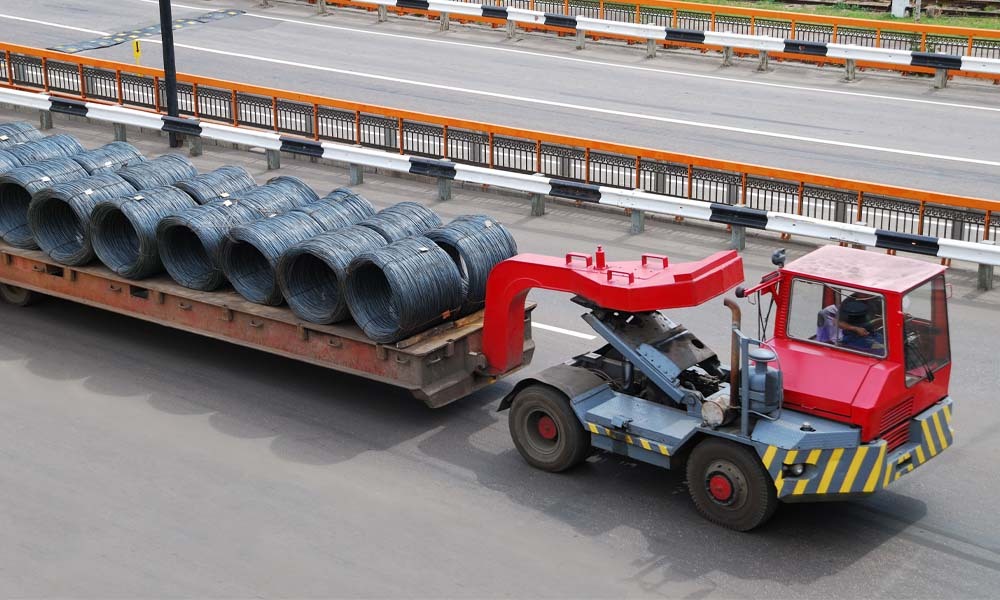 Various cranes: rubber-tire gantry cranes (RTGs), rail-mounted gantry cranes (RMGs): used for lifting containers from trailers or automated guided vehicles (AGVs) and stacking them up to 7 high to maximize storage space. RTGs and RMGs are used equally around the world, while automated stacking cranes (ASCs) are typically used with automated guided vehicles (AGVs). Cranes can also load trucks leaving the port; RMGs are also used to load trains—up to 16 tires.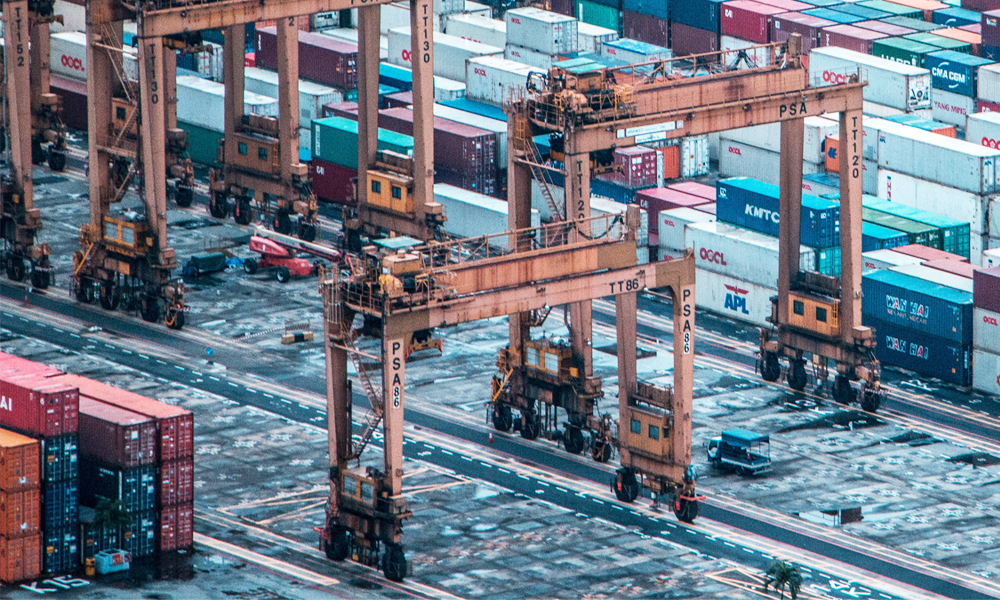 Automated guided vehicles: used for transporting containers to the stacking yard, often in conjunction with other automated machines. AGVs are gaining in popularity, especially in rapidly developing Asian ports—4 tires.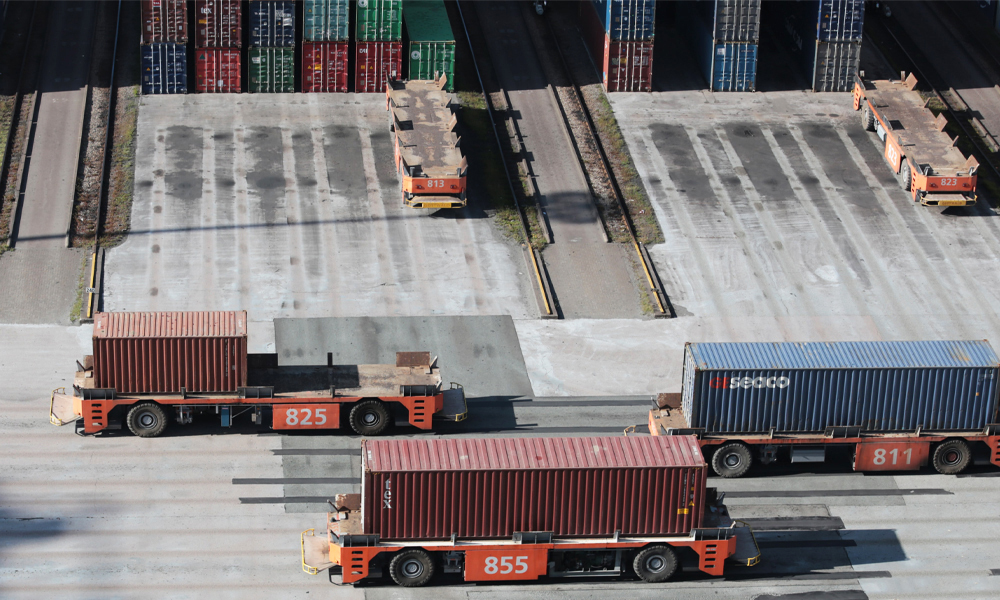 Reach stackers: used for stacking containers or loading them onto trains—6 tires.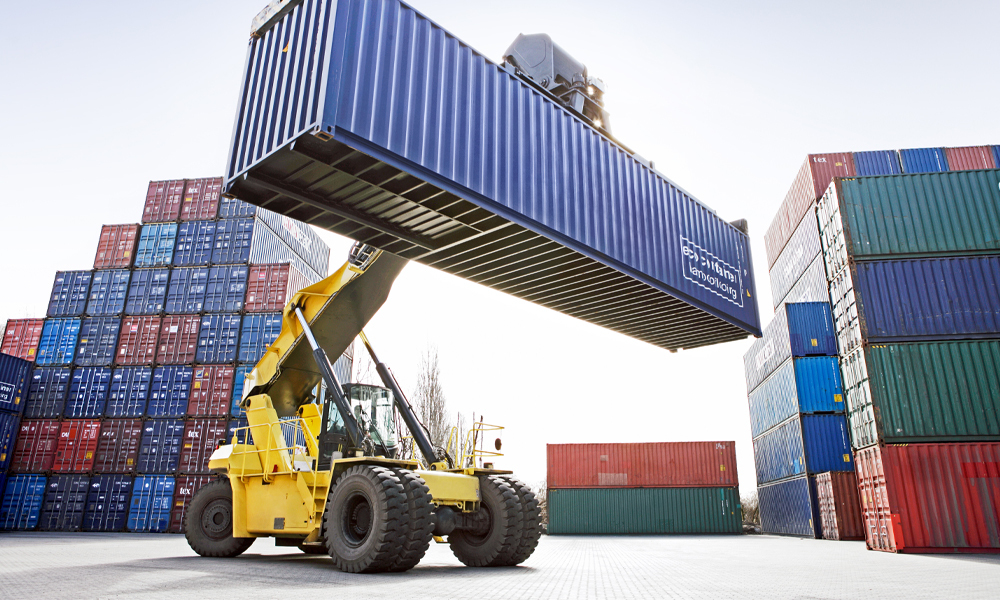 Empty container handlers: used for grabbing and stacking empty containers up to 8 high—6 tires.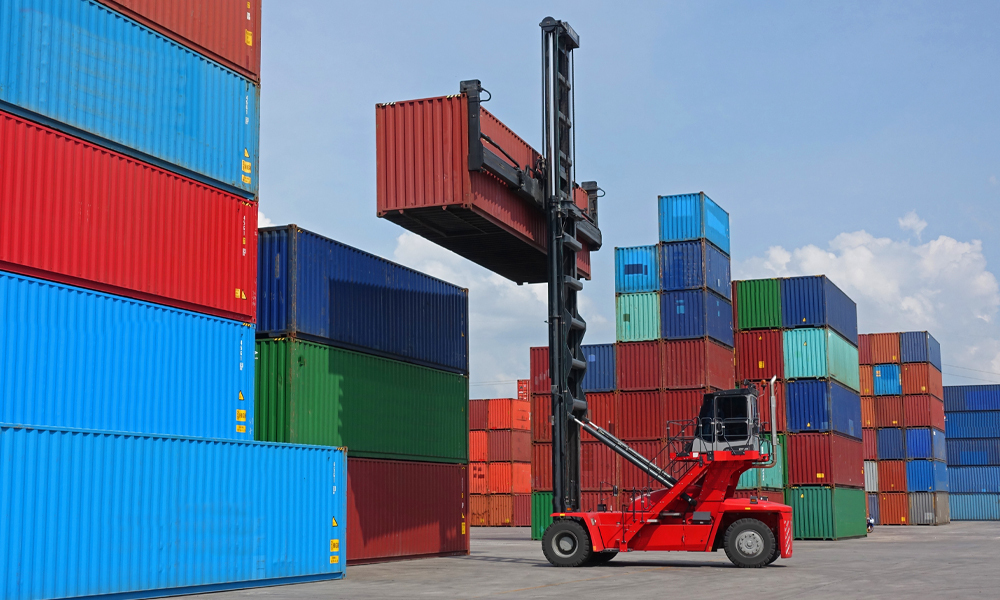 Loaded (or laden) container handlers (aka big forklifts): used for lifting containers from the top of stacks, stacking loaded containers or loading them onto trucks—6 tires.

#4: HOW MANY CONTAINERS CAN A BUSY PORT HANDLE EACH DAY?
The world's biggest ports can handle up to 100,000 containers in a single day, but most big ports handle between 10,000 and 20,000 a day. To keep up this pace, safety and productivity have been viewed as the main challenges of port operations. Let's dig a little bit deeper.
What are the productivity challenges of the port industry?
- Safety is the #1 issue in ports
Operators often work high off the ground—up to 40 feet (12 m.) for a straddle carrier. Also, tractors with trailers circulate in very busy port areas with lots of truck traffic, so the risk of accidents is high. AGVs eliminate this risk because these machines are connected and constantly communicating their positions, speeds, etc. with one another. Automation is a big trend these days, driven by safety and productivity concerns. Labour costs is another driving factor as the costs and challenges of employee training, retention, etc. can really impact the bottom line.
- Productivity is another key issue in the port industry
Terminal operators working in the same port constantly compete with one another. That means a lot of close and intense competition. The big cranes that unload ships can't ever stop working, otherwise it becomes too expensive. That means they can't wait for other machines in the chain.
- Sustainability is rapidly growing in importance
New ports and development projects now need to meet stricter sustainability goals and requirements, such as carbon neutrality—another factor that operators of terminals need to keep in mind.

#5: WHAT GOODS MOVE THROUGH PORTS?
Just about everything—from the perishable foods we eat, which are shipped in refrigerated containers (aka reefers), to the cars we drive. Along with liquid bulk (petrol, oil, fuel, etc.), dry bulk (ore, coal, and other minerals) and all manner of consumer goods. The list goes on and on.
We truly hope this article helped you learn a little bit more about the impressive world of ports, the machines that work there and their day-to-day challenges.
If you'd like more information on how our Material Handling tire solutions and services can help you meet your productivity targets whether you're working in a port, an airport or in warehousing, here's how to find a dealer in your area.
---