Material Handling
|
Product insight
|
27.10.17
As high-intensity applications increase, so does the demand on forklift tires
The forklift is to material handling what the automobile is to most of us. It's reliable, always ready to go, often taken for granted, yet constantly pushed to go beyond its limits.
Nowhere is the brunt of forklift usage intensity felt more than with the tires.
For over 100 years, they have been the primary lift, carry and place tool in warehouses, distribution centers, manufacturing plants and today, even big-box stores. What has changed dramatically in recent years is the frequency by which forklifts are being called upon and the conditions in which they must be operated. Operation speed and lifting capacity keep increasing while more specialized attachments and heavier loads are carried.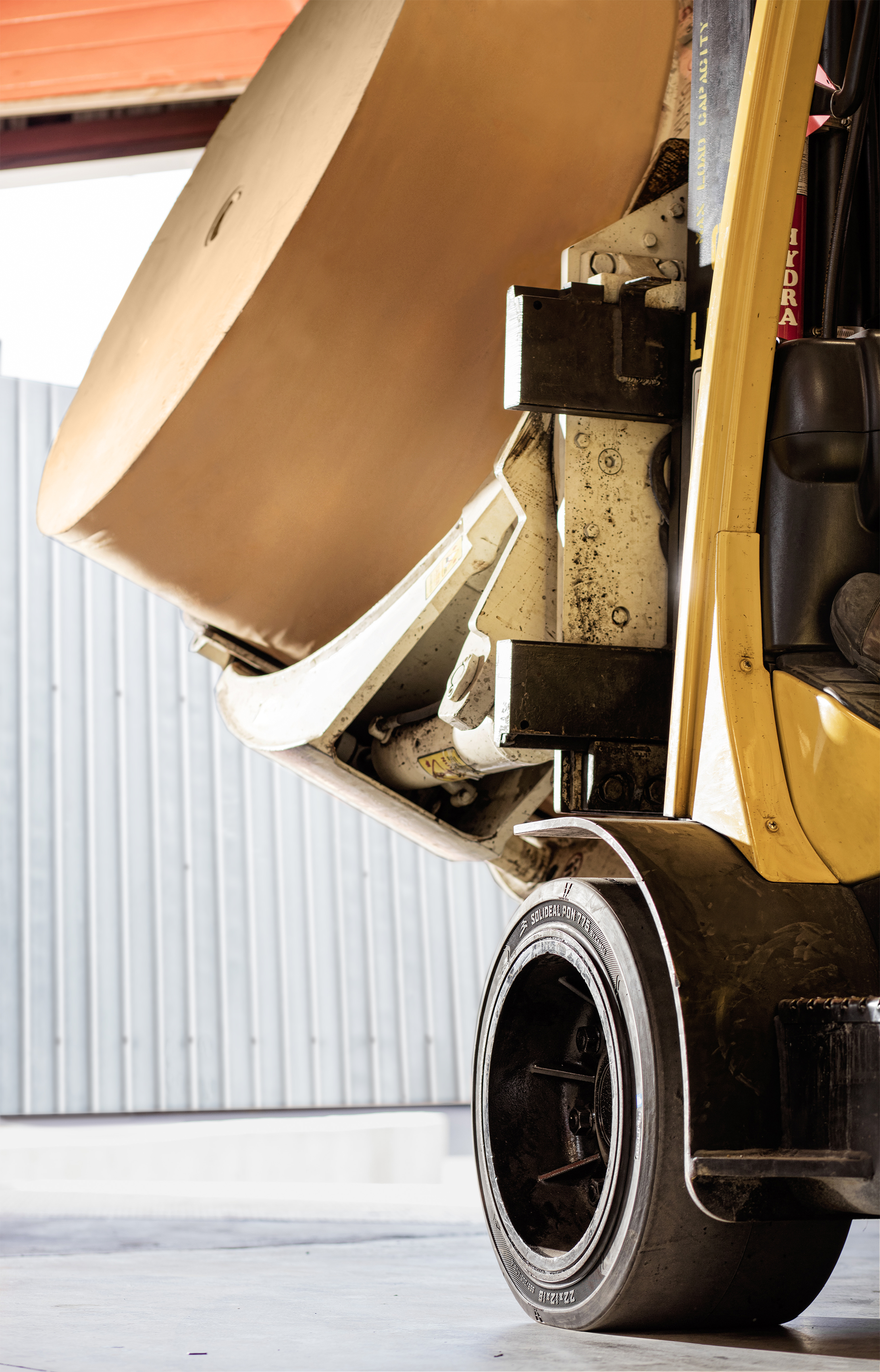 New Solideal PON 755 forklift tire in a paper mill application
A smaller, more productive package
The forklifts are being streamlined by OEMs to operate in modern work zones that are laid out to maximize available space. In other words, there is less room for this equipment to maneuver these days.
Today's machines may be less bulky and less boxy, but not at the expense of established lift capacities demanded by the markets. They have to do the same, if not more, with less.
Adding to that is the development and acceptance of equipment technologies traditionally not part of the forklift offering. These include:
hydrostatic transmissions that allow the fork trucks to accelerate and brake faster
automotive-type stability systems that allow safer cornering at increased speeds.
Fleet management for forklifts
Forklifts are often working 24/7 in fast, streamlined operations that are strategically planned to maximize the equipment available.
With increased travel time, distance and duty cycles, the result is increased demands on tires and less cooldown periods, which leads to internal heat build-up. If tires are not properly matched to the forklift's application and intensity usage, their ultimate demise is thermal failure.
For the fleet manager, that means costly unscheduled equipment downtime.
Companies and fleet managers can't afford to have many spare equipment sitting around just-in-case, but at the same time downtime is just not an option for their operations.
In terms of production and labor costs, on top of the actual parts and service costs, the unscheduled downtime caused by tire failure can be extremely expensive for the owners. That is the crux of why forklifts are today not only front and center in the warehouse, but also in the minds and plans of fleet managers. They want to be able to plan machine downtime, and not experience unpredicted tire failures.
The key is to have the right tire on the machine, so that it can be replaced on schedule in the least amount of time possible.
Which tire is the right tire?
Every application is unique and has its own tire requirement. It is important to understand where and how the forklift is being use to select the right tire to minimize operating costs and avoid unscheduled downtime. A 6,000 lbs lift truck working in a small bottling plant may not need the same tires than a 12,000 lbs forklift working in a large paper mill moving 8,000 lbs paper rolls 24/7. These are obvious ones, but even with paper mill applications, you may need different sets of tires depending on the job the machine will be requested to do.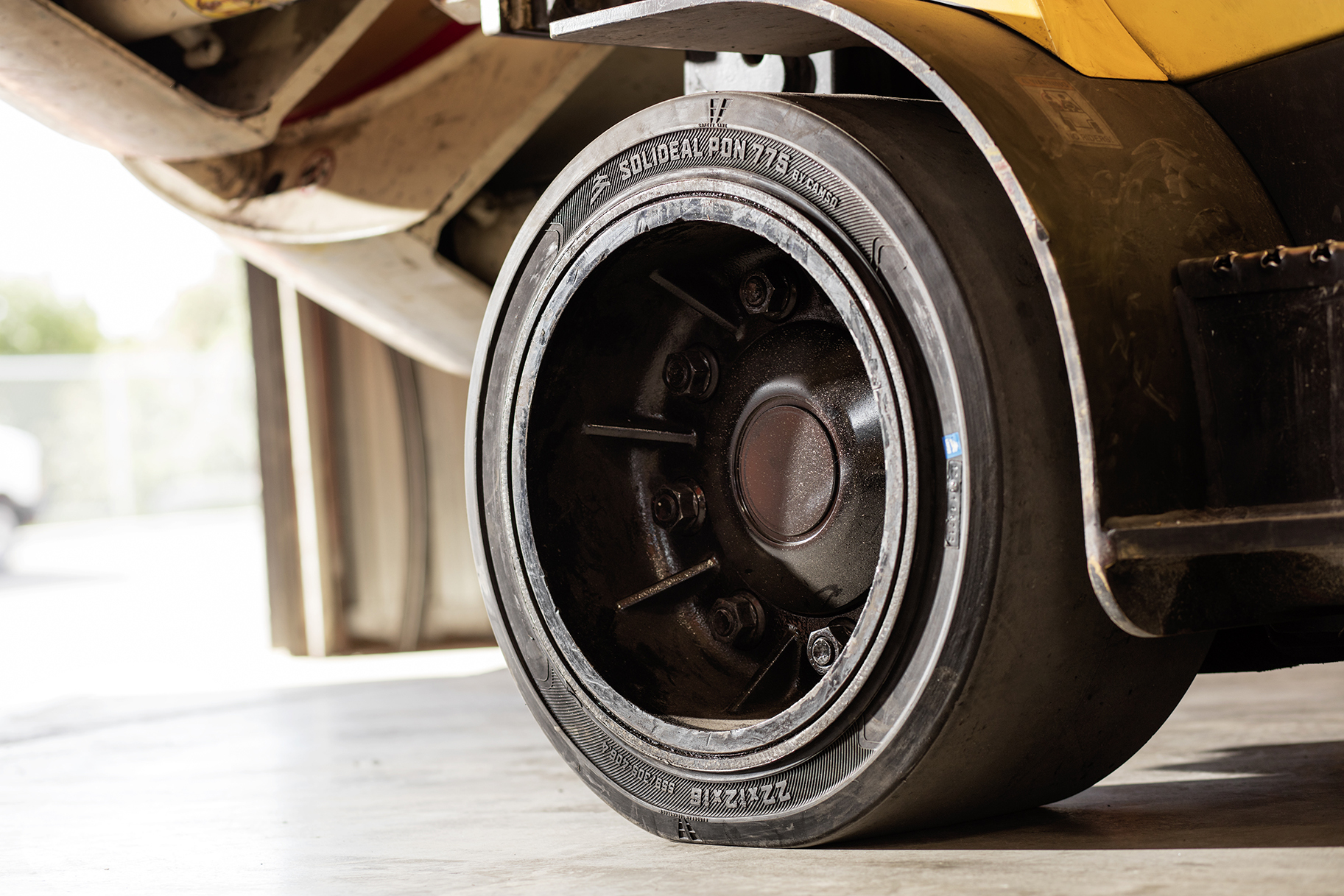 New Solideal PON 755 forklift tire
New Solideal PON 755 forklift tireIt's essential for dealers and service companies to understand the requirements of these specific applications in order to suggest the best performing tire to their client, and for clients to select the right one for their needs and get the lowest operating cost solution.
This is where the concept of "usage intensity" comes in. After spending time in the field, we've found out that each application has its own usage intensity, and that this is what differentiates an application from another. Usage intensity reflects the amount of heat stress inflicted on the tires by the forklift's duty cycles. It can be measured by 5 different factors: forklift load capacity, time spent loading/unloading material, travel time, distance travelled per day and number of daily shifts.
Maximum lifespan by usage intensity
To ease forklift tire selection, we've developed an online tool that ensures the correct tire model is matched to the forklift application.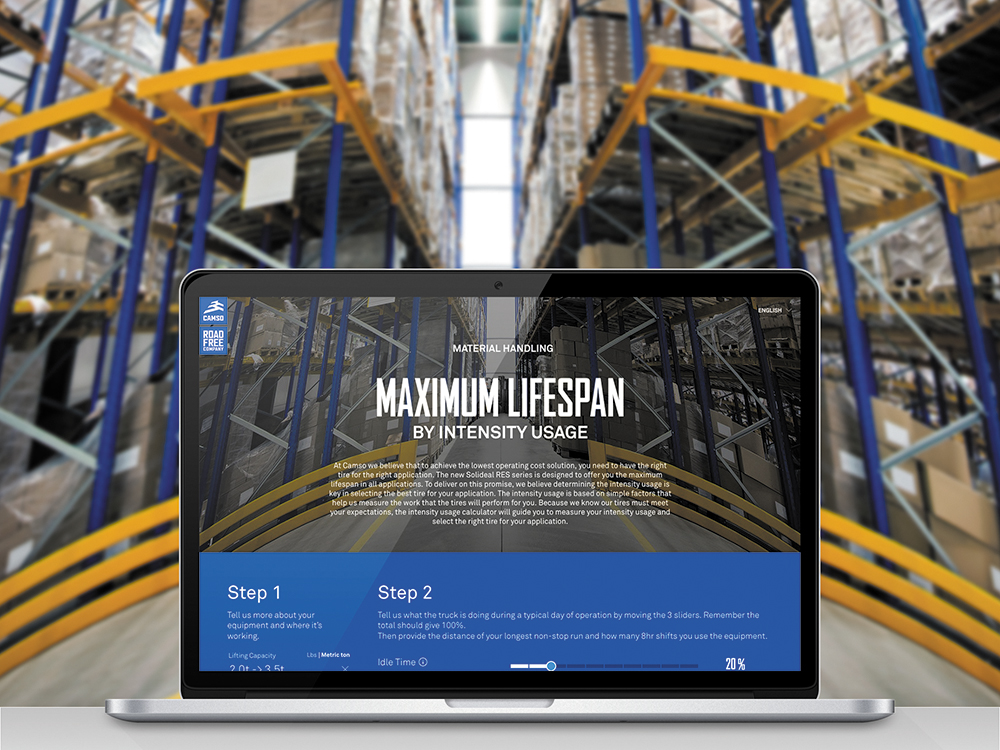 Camso's Usage Intensity Calculator
Our Usage Intensity Calculator quantifies different levels of forklift application intensities by factoring the 5 usage intensity variables. A score is produced and, when matched with engineering-derived product data, an actual tire recommendation is provided. As compared to model recommendation based on a range, the actual score is particularly helpful for ensuring forklift users are best and most efficiently equipped.
Recommendations are available from either of Solideal PON (press-on) or Solideal RES (resilient) tire product families.
---