Material Handling
|
Best practices
|
06.04.23
What impact your tires can have on the performance of your forklift and the environment?
*This article is based on the former version "Can tires leverage your forklift performance". The text was updated on April 6, 2023.



In the last years, there has been a significant focus on environmental values and initiatives within corporations. To meet the new standards of emission control, organizations must considerably reduce their level of carbon dioxide (CO2) emissions. In the material handling industry, there are several actions you can do to make a difference. Choosing an electric forklift over fuel and selecting the right tire for your application are examples of good sustainable practices. The type of lift, type of drive train, axle positioning, overall weight and vehicle dynamics all play a role in the forklift performance, productivity and fuel economy. Reducing tire rolling resistance helps improve the energy efficiency of the forklift, as well as its performance. Many factors play a key role in enabling this overall reduction. Here are the most frequent questions related to tires and sustainability.
What are the environmental impacts of the battery and forklift parts?
Most new forklifts are equipped with batteries that can last up to 8 hours under good conditions. As the trend for battery-equipped forklifts is growing, ensuring that one facility's fleet can run through complete shifts without downtime due to recharge battery is key. Under harsh conditions, battery life can really become an issue. It often comes down to the manufacturer and the specifics of their machine. Small improvements and gestures will make a significant difference in productivity.
Tires are the single most significant item in a forklift's operating cost; every aspect of forklift operation is affected by the tires on which they run. They play an important role in maximizing battery life and forklift uptime, thus resulting in energy savings translated into lower fuel consumption, lower CO2 emissions and operating costs.
Remember: paying close attention to the maintenance of parts, tires and battery can make a significant difference for the life of your equipment. On this topic, Liftow, a full service Toyota Forklift Dealership, has published a mini guide to caring for the battery on your electric forklift. As a member of the Toyota organization, Liftow is committed to making environmentally responsible choices.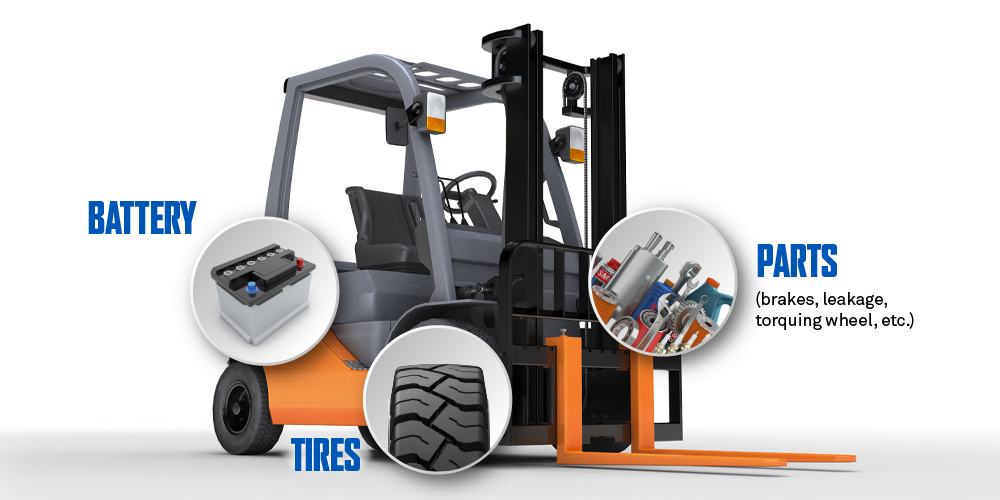 What about low rolling resistance tires?
The rolling resistance of the tires is highly dependent on the tire tread. During every operation, the tires are subjected to traction, braking and steering actions. Depending on the construction of the tread pattern, more or less energy will be lost from drag and friction. High percentage of rolling resistance can have a major impact on battery life and, therefore, is a key element in preventing downtime and maximizing machine availability.
Low rolling resistance (LRR) tires allow you to drive longer and lift more. LRR tires don't appear different from standard tires at first sight. The difference between the two lies in the nature of the compound used and the composition of the tire. When it comes to performance, the difference between an LRR compound solid tire and a standard solid tire is similar to the difference between a radial fully inflated pneumatic tire and one that's underinflated. An underinflated tire can increase fuel consumption, tire wear and rolling resistance because more of the surface is touching the ground. Like a properly inflated tire, an LRR compound tire rolls with less effort and utilizes less energy. LRR forklift tires not only reduce fuel costs but generate less internal heat in the tire, therefore maximizing the life span and durability.
How to increase the life of my tires?
Choosing the right tire for your application is essential to increase tire life, while ensuring the lowest operating costs. To help you evaluate the intensity of your forklift's usage and better understand your needs, Camso has developed an online tool that rates the levels of forklift usage intensity, the Usage Intensity Calculator. Based on real field data, it considers parameters such as lifting capacity, working environment, as well as idle, travel and maneuvering times. With a few clicks, the system calculates the intensity score and then recommends the right tire for the analyzed application.
In addition, Camso developed a rubber compound that provides better fuel efficiency and longer life. Hours of research and testing to evaluate tire wear criteria allowed our experts to find a way to build a new generation of resilient tires, the Solideal RES 660 Xtreme Serie. Thanks to its advanced abrasion-resistant tread compound, it offers great heat resistance, low rolling resistance and improved energy savings. The RES 660 Xtreme is designed for very heavy-duty applications with long distances, heavy loads and minimal downtime. That way, fleet managers can optimize their investment and reduce the environmental impacts of their operations.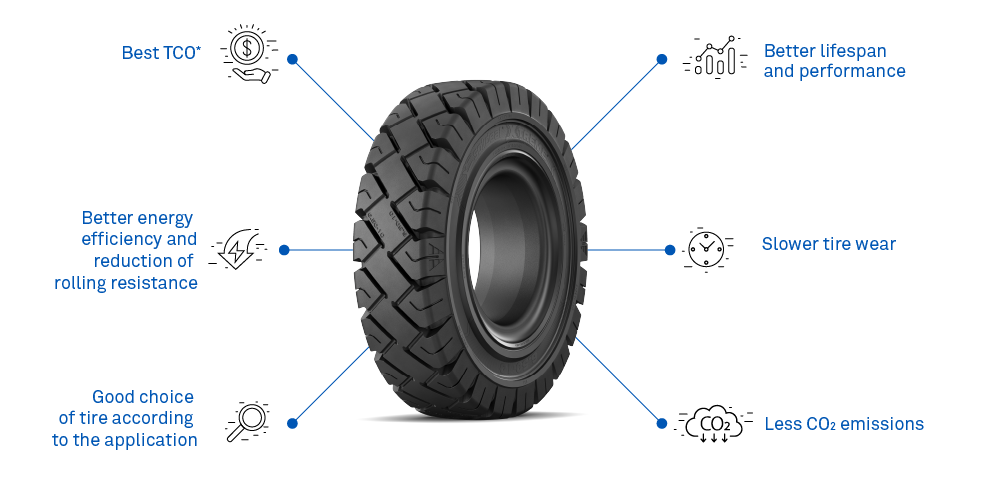 In conclusion, every stage of a product's life cycle (manufacturing, transportation, product and service use, end of life, raw materials) can contribute to reducing CO2 emissions. Camso makes sure to consider all the elements necessary to develop products that help reduce your rolling resistance and tire wear. Choosing the right tire for your application is the first thing to consider in making a conscious choice to improve your performance and environmental footprint.
---