Construction
|
Best practices
|
05.06.17
Minimizing skid steer tire wear and premature disposal
Tires are typically the most expensive consumable item on a skid steer loader. That's why, whether you're a weekend warrior or a seasoned professional, it pays to acquire some basic knowledge to keep your tires rolling as long as possible.
Avoiding excessive wear and being able to determine how much life a tire has left will help to minimize your costs (not to mention headaches), while maximizing your machine's performance.
Every tire has a story to tell. You just need to know how to read it.
Like any relationship, to keep it going strong you need lots of face-to-face time. Or in this case, face-to-tire time. Remember that if you want to keep the rubber working on the ground, you need to take a good look at your tires regularly.
By inspecting their appearance after each use, you'll ensure that you're not missing any of the cues (some subtle, others more blatant) that signal how your tires are holding up to the elements. Always be on the lookout for damage. That means keeping your eyes peeled for any cuts, scrapes, embedded objects and uneven wear.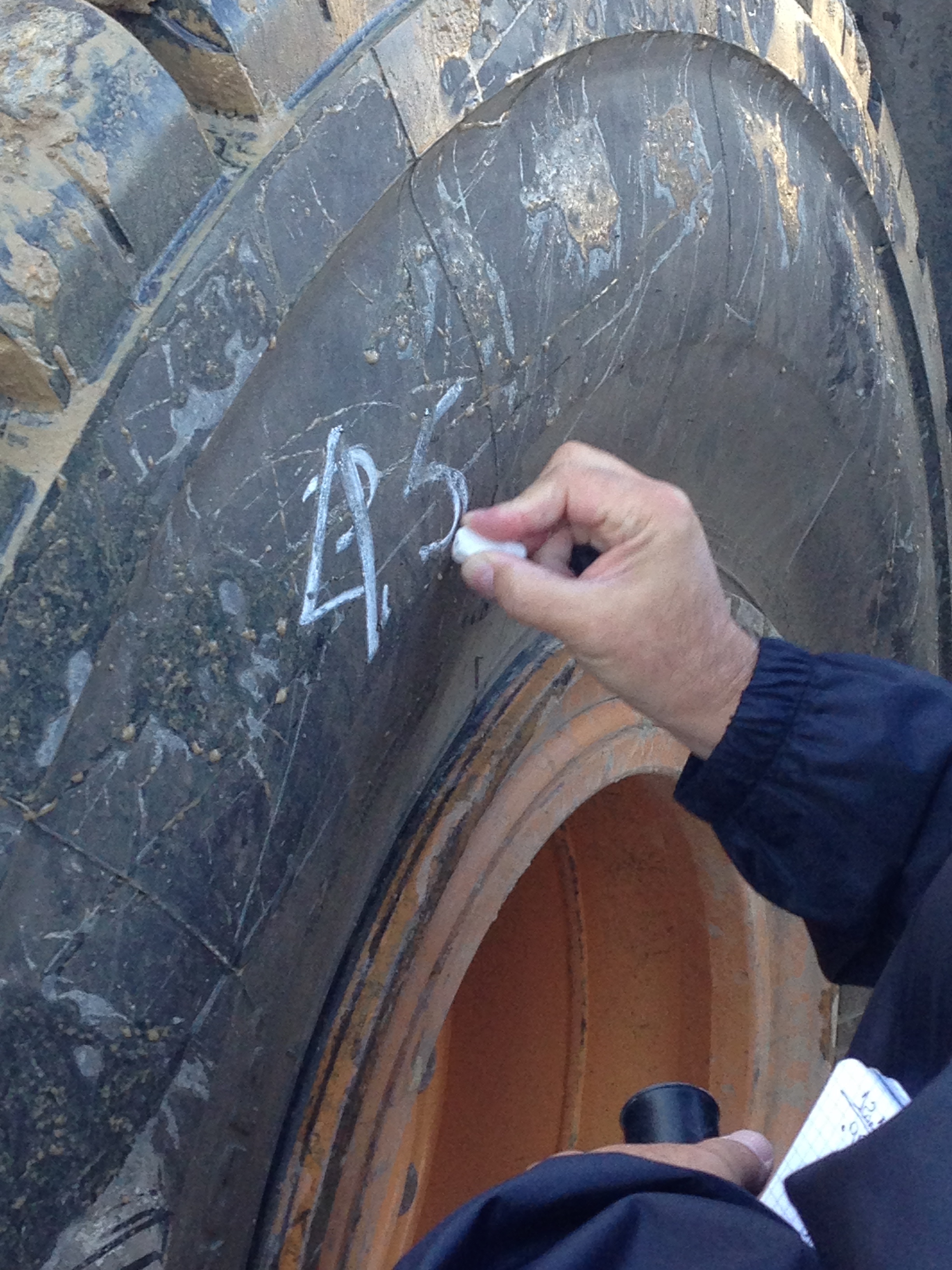 Obviously you want to keep your skid steer's relationship with its tires going as long as possible. Ending the union prematurely is like a divorce that should not have been. It's time consuming, expensive, and frankly can be avoided.
Regrettably, as is sometimes the case, tires with useable tread depth remaining are removed from service too early during the course of normal operation.
One measurement that acts like a barometer for tire life is tread depth. By taking an accurate measurement of tread depth at regular intervals, you'll know whether your tire is on life support or has more work days left in it. To measure accurately, it's critical that you take note of the tire's original tread depth (OTD), which varies depending on the tire brand and style.
Remember though that there's a surefire, and easy way to determine the state of your tire's health: the experts at your dealer can tell you whether a tire should head back to the work site or go directly to the scrap pile. In the absence of dealer advice (hint: never a great idea) there are some rules of thumb you can follow. Normally, a tire is considered fully expired when only 15% of the OTD remains. In other words, when your tire is 85% worn out, it can be laid to rest for good because the risks of having a flat tires are high and the tire doesn't provide traction anymore.

Most Camso tire products feature a Tread Wear Indicator (TWI). This visual aid lets you know exactly where to consistently and accurately measure tread depth.
Some things are best left to professionals. That includes replacing a typical skid steer tire.
Mounting and demounting skid steer tires may seem like a relatively simple process. In fact, all that's required is some basic knowledge, a little training, a few tools and an air compressor. However, replacing a skid steer tire yourself isn't advised. The two main reasons why are inflation pressure and appropriate tire alignment. Both are critical factors on tire wear and service life. Therefore, it's highly recommended that only professionally trained tire service people attempt installation.
Another must before mounting any new tire is a close inspection of the wheel. Again, here an expert will be able to detect whether there is any rust or cracking issues that need to be addressed. When it comes to installing solid and foam-filled tires, always rely on a professional to do the job properly and safely. This type of installation requires even more expertise and equipment (including a press) than a regular tire change. Partnering with a reliable tire service provider such as Solideal On Site Service or with your tire dealer is the best way to go.
Saving tire wear is easy. You just need some operational best practices in your toolkit.
There are two types of tire wearing factors. One is under the operator's control while the other is not. Uncontrollable factors include the ground surface (think rock, earth, sand and snow) and type of road (mountain or highway for example). Thankfully for those factors that can be controlled, there are steps you can take to minimize their impact on your tires.
Inflation: Ensure that your tires are running with just the right amount of air. Always check tire pressure before using your machine.
Load: Avoid putting too much weight on your tires. Respect the equipment manufacturer recommandations as per the load they can carry.
Speed: Running your skid steer at the recommended speed will ensure your tires don't suffer from internal heat build up or premature wear.
User Driving Behavior: Humans are the main cause of preventable tire wear. The way an operator drives and uses their skid steer determines how long the tires last. Pushing a machine too hard can lead to catastrophic tire failure and flats. Well-trained operators can't always avoid averse conditions, but with the right training they can control how they work in them.
It also pays (literally) to keep in mind that installation and maintenance are external factors that you can control. Ensuring that your tires are installed properly and maintained regularly will go a long way in determining their life span.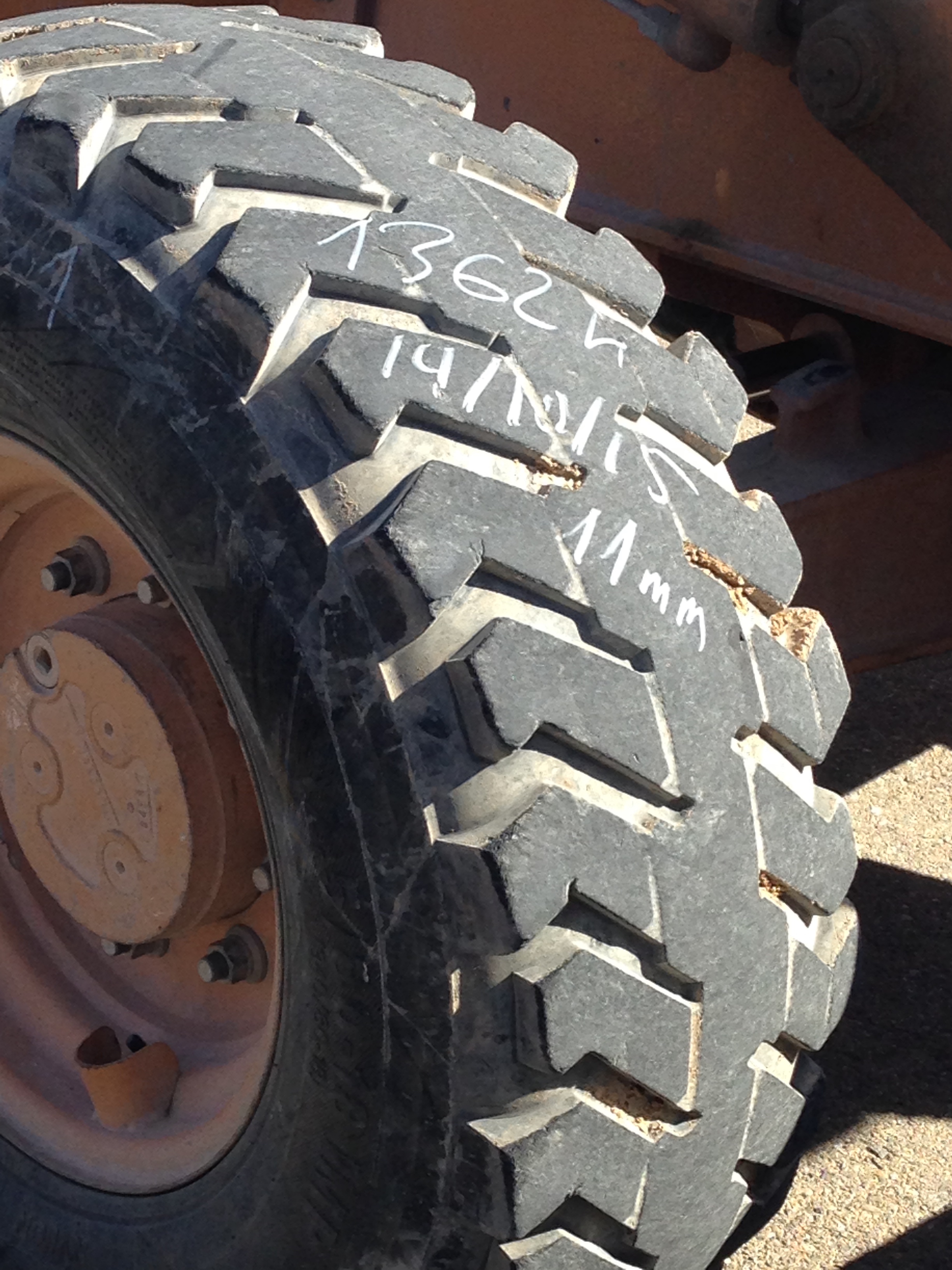 When installing the tire make sure to :
respect the orientation of the tread pattern if it's a directional one.
never mix different tire constructions (radial vs bias vs solid), tread depths (L3 vs L4 vs L5) and profiles (directional vs non-directional) on the same machine.
validate tire rim size.
As with other items on your service checklist, planned maintenance for tires is your best defense against unexpected failures. So, you'll want to regularly:
clean your tires and remove sharp objects or stones embedded between lugs.
check tire inflation pressure.
rotate tires.
remove sharp objects and debris as much as possible from working surfaces.
Keeping your tires from seeing the end of the road
Tread wear is obviously an important factor in determining how much life a tire has left. But it's not the only factor. Remember that almost 50% of skid steer tires fail before the end of their useful life. By taking the right steps, you'll keep your tires working as long as possible. It's in your best interest - productivity and profitability-wise - to do so.
Expect a lot from your tires, but not the impossible. No tire can successfully cover every surface type or duty cycle. That's why it is imperative to choose the right product for the application!
To understand fully the application in which your machines will be running and what will be required from your tires, ask yourself these questions: What's the severity of the job? Is it harsh or more general duty? How much traction is required? Are you at risk from a sidewall impact or punctures? Is the surface soft, mixed or hard?
Matching socks with sandals is never a good idea. Selecting the wrong tire for your application? Way worse. Don't get stuck spinning your wheels, consult with your local tire dealer for optimal tire selection. They'll ensure you make the right choice by assessing the following criteria:
tread pattern
sidewall protection
tread impact protection
recommended air pressure
your application, equipment & surface conditions
At the very least, you should keep a consistent record of every tire put on your skid steer, noting its purchase cost and service miles at replacement.
You see, it just takes some know how to keep your tires rolling towards the job site instead of the scrap pile.
---