Snowmobile
|
Best practices
|
02.03.23
How to choose the right snowmobile track for your riding style
Looking for the right track for your sled but aren't sure exactly what you need – or even what questions to ask? To help you have a more productive discussion with your local dealer, our pros break down what to look for in a snowmobile track based on your riding style.
To get maximum excitement and performance from your sled, you need to use the right track for the conditions you're riding in.
Pick a snowmobile track according to your riding preferences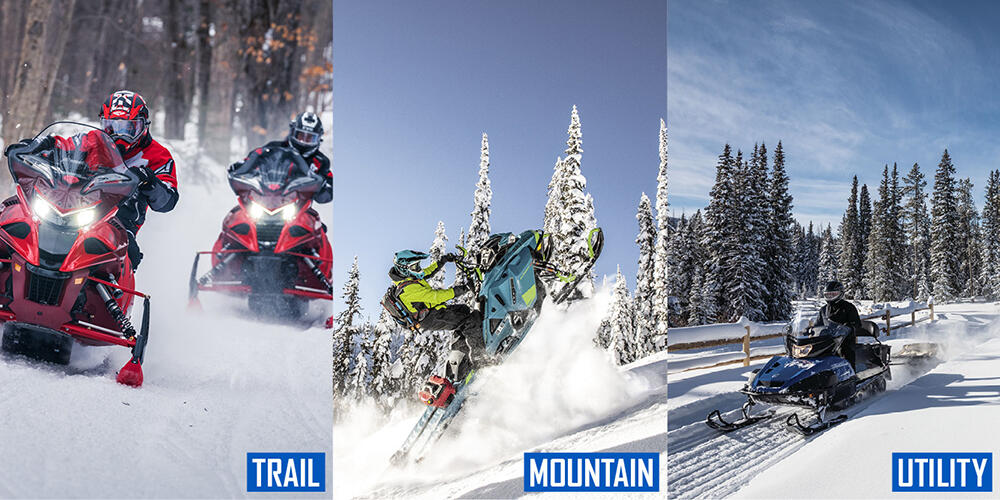 If you're…
• A rider who loves well-defined routes
• A cruiser doing big mileage
• An aggressive rider who loves top-notch traction
• A power rider flooring it on straightaways

You need a track that can handle…
• Groomed snowmobile trails
• Ungroomed trails used enough to be compacted most or all of the time
• Bare or lightly covered ice with special traction challenges
Look for these TRAIL TRACK features:
• TRACK LENGHT > Standard is 137" though 146" is becoming more and more popular, especially those who split their time on/off trails. Rule of thumb: A longer track means better traction and flotation off-trail or when traveling from one trail to another.

• TRACK WIDTH > Most trail tracks are 15". A rare few are 16".

• LUG HEIGHT/GEOMETRY > If you're a 100% trail rider: You don't need tall lugs. 1.25" or 1.50" lug height will do the trick. 1.25" will give less push in corners and use less gas, boosting mileage. Any higher and your lugs will be likely to fail due to increased heat and flexing.

If you tend to go off-trail: Go with a more aggressive lug height of at least 1.50". You'll lose some mileage, but your lugs will last longer – provided you don't do too much trail riding. Rule of thumb: If you spend more than half of your time on trails, stick with shorter lugs. It will maximize the life of your tracks and save on gas.

• DRIVE PITCH > To maximize performance, you'll want a lighter track with more space between lugs – such as 2.86".

• SUPPORT COLUMNS > Trail sleds are shorter than mountain sleds and don't need as many support columns.

• CLIP CONFIGURATION > Fully clipped.

• ICE TECHNOLOGY > Camso pre-studded track are a good safety option for improving traction and control on icy surfaces.
Recommended Camso TRAIL tracks
If you love…
• High-country open meadows
• Boondocking in the trees
• Lots of deep snow

You need a track that can handle…
• Deep powder
• High-altitude terrain
• Steep slopes
Look for these MOUNTAIN TRACK features:
If you're riding backcountry:

• TRACK LENGTH > Longer tracks perform better in deeper snow. Aim for 162" to 175".

• LUG HEIGHT/GEOMETRY > You won't necessarily need the tallest lugs, especially if you're into boondocking. You want the track to be light and maneuverable

• DRIVE PITCH > 2.6" or 3".


If you're a chute climber:

• LUG HEIGHT/GEOMETRY > You'll need extra-tall cup-shaped or saw-tooth lugs of 2.8" to 3.2" to grip the snow and make it to the top.

• SUPPORT COLUMNS > Adds support to the profile of the track to give maximum traction and lift.

• DRIVE PITCH > 2.6" or 3".
Recommended Camso MOUNTAIN tracks
Should you change your track for spring riding? Some riders do, especially if they're taking their machine to a new location with different conditions. Looking to change the track on your sled?
Browse our Camso track lineup >
If you're:
• Working in the snow, often in challenging conditions
• Doing search & rescue
• Pulling a service sled or hauling heavy items like firewood or fishing shanties

You'll need a track that can…
• Haul personnel and tools
• Pull equipment and material
• Handle unpredictable snow and terrain
Look for these UTILITY TRACK features:
• TRACK LENGTH > 154" or 156".

• LUG HEIGHT/GEOMETRY > You'll need a cup lug design with a 1.5" to 1.8' lug height for the best possible traction when pulling heavy loads.

• SUPPORT COLUMNS/DRIVE PITCH > Provides support to the lug to not fold over when pulling heavy loads.

• CLIPS/CLIP CONFIGURATION > Mostly fully clipped.

• ICE TECHNOLOGY > You'll need pre-studded tracks if you're mostly riding on ice or doing research and rescue on hills.
Recommended Camso UTILITY tracks