Material Handling
|
Road Free
|
18.10.16
Three new forklift tires for lowest operating cost solution
We are launching three new resilient forklift tires, the Solideal RES 660 Xtreme series, the Solideal RES 550 Magnum series and the Solideal RES 330 series to help bring down the operating cost of a forklift.
Forklift mobility needs are constantly changing. But one element that remains constant is that fleet owners and managers are always looking to lower their operating costs. Solideal's resilient (RES) tire line-up, manufactured by Camso, responds to this. "Our new industry-leading Solideal RES tires provide maximum lifespan within an array of different application intensities so fleet managers can optimize their investment. As off-the-road experts, it's our job to understand the unique mobility needs of any forklift application," says Erick Bellefleur, Product Line Executive Director - Material Handling, Camso.
How quickly a tire wears is dependent on a number of criteria; some of which include how much load a vehicle carries, how far it travels, the number of hours it works, driver behaviour, floor type, etc...In designing the new Solideal RES line-up, Camso spent thousands of hours evaluating the criteria to enable them to design a tire that would last longer and stand up to the elements that contribute to premature tire failure.
"Our research and testing allowed us to find a way to build a stronger series of resilient tires. We're quite excited to bring these products to market," concludes Bellefleur.
​The Solideal RES 660 Xtreme Series
The Solideal RES 660 is highly resistant to heat due to its performance compounds and low rolling resistance. It was designed for very intense applications with long runs, heavy lifting, and minimal forklift idle time. Its wide profile increases stability in corners and lifting loads. The continuous centre lug minimizes vibrations for a smoother ride.
​The Solideal RES 550 Magnum Series
The Solideal RES 550, is the ideal choice for applications requiring medium to and heavy loads, but do not operate 24/7. Stability and safety are assured by its wide profile, large footprint and deep lugs. These features also improve tire traction on rough surfaces.
​The Solideal RES 330 Series
The Solideal RES 330 is ideally suited for machines running in confined spaces on an intermittent basis. For this type of application, the RES 330 is the longest-lasting tire in the industry and offers the lowest operating cost solution.
Products are currently available for purchase in the North American, European, Middle-East and African markets.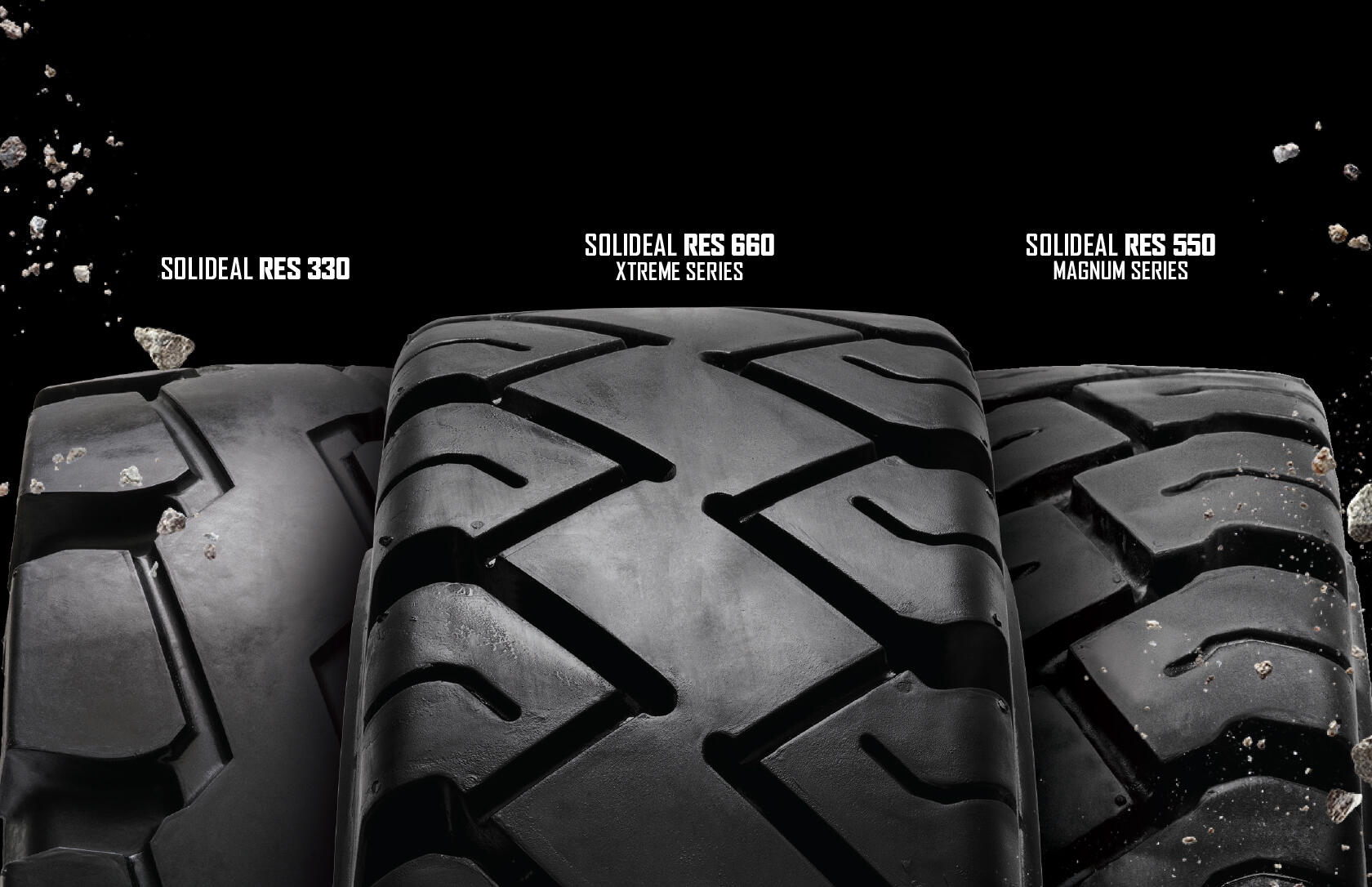 ---