Construction
|
Road Free
|
27.10.21
Talking tires: how will construction tires evolve over the next years?
The construction industry has been evolving at a fast pace over recent years with the electrification of equipment gaining in popularity among OEMs, the launch of autonomous vehicles, the increasing connectivity and growth of data collection, and the list goes on. But when we talk about tires, what's been happening and what's coming next? Let's see what our construction tire experts foresee for the industry.
One of the main things that will influence how tires change is the evolution of equipment manufacturers and the machines they bring to the market. Different machines mean new challenges may arise, and even new applications may appear.
Fully connected tires and the possibilities they bring
Let's begin with fully connected tires: they'll help construction operators adapt and maximize their machine and tire performance. This should allow them to lower their overall price of ownership. How will connected tire solutions work? For instance, they can notify a construction site's operation center with real-time alerts when there's a tire failure or if some other issues arise. These solutions will evolve to eventually become predictive and could help reducing unpredicted downtime or identifying a product's end of life. This will add value to the entire chain and tires life cycle.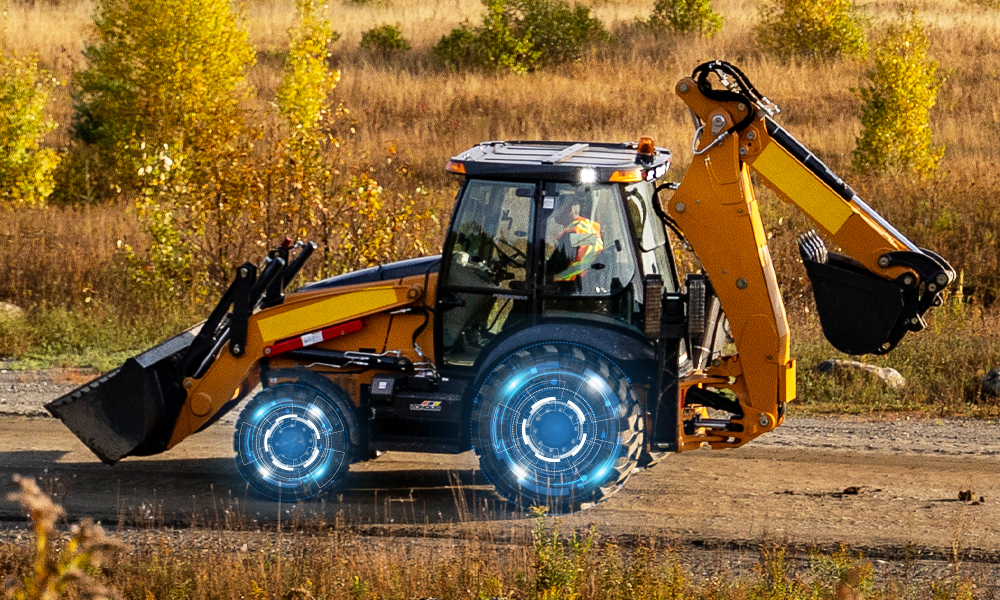 When we talk about data collection, connectivity and IoT (Internet of Things), we can't overlook Artificial Intelligence (AI), which is also closely linked to connected tires. When we connect tires with their environment, the more data they will breed and the more this data can be used to ease task automation, simplify jobs and improve efficiency. For folks operating the machines, this connectivity can ease tire selection – choosing the right tire for their application – more specifically when it comes to tread patterns or even for tire maintenance. It'll become much easier to optimize inflation pressure and access tailormade service plans.
Thanks to connected tires, manufacturers will gain better knowledge of customer's usage based on factual, accurate data from the field. This will allow them to improve and customize their solutions, product ranges and services. Fast forward a bit further down the road, and this connectivity will make it possible to make real-time enhancements to the performance of products. Imagine a machine that uses live information captured by connected tires to self-adjust in real-time! It will become much easier to improve energy efficiency, traction, puncture resistance, and more. It'll become possible to ease circular product cycles with the reusability of tire carcasses and the processing of recycled materials that make it into the manufacture of new products.

Autonomous vehicles and the new challenges they bring
It may be easy to overlook, but tires will play a key role when it comes to ensuring uptime of autonomous guided vehicles (AGVs). Just think about major construction sites and quarries, where these machines have already started and continue to gain in popularity quickly. There are three main reasons why AGVs will be becoming more and more popular in coming years: safety (autonomous vehicles significantly reduce risks of incidents), scarcity of skilled operators for repetitive jobs, and finally, the rise of controlled environments such as quarries and construction sites.
Tires will help reduce rolling and running resistance, providing maximum battery life and better fuel efficiency for AGVs. This will come through the optimization of tires' tread patterns and rubber compounds.
In many cases, autonomous construction equipment will be working at higher intensities and for greater number of hours than operator-driven machines that must comply with work shifts. The tires will have to adapt to meet these requirements through materials and compounds that offer higher heat resistance and ton-kilometers per hour (TKPH).
Downtime from flat tires will remain one of the biggest and costly issues: maximizing uptime of machines continues to be a challenge to address for AGVs. Puncture and flat-proof solutions will increase in popularity, while comfort will become a secondary matter since there are no operators. This will increase the share of market for airless and solid tires, tracks and conversion track systems.
Keep in mind that traction and stability will remain important for AGVs as they impact both performance and safety on construction sites. Choosing the right patterns for the application of the equipment will help keep unpredicted downtime from lack of performance to a minimum.
Sustainability: a growing concern for tires too
Tires will have to optimize their sustainability and reduce their environmental impacts. The manufacture of tires in a more sustainable way starts by improving rubber compounds for longer life, including more recycled materials in production, avoiding harsh chemicals, and choosing sustainable raw materials (opting for natural rubber). To minimize the impact of tires on the environment, we will see new compounds being developed that can be easily recycled or broken down to be reused.
It will become even more important to maximize a single tire's usage. Longer life and better performance are a great way to start but enhancing carcasses to ease recycling will help reach the target of a circular economy where we can get multiple lives out of the same tire, using fewer raw materials too. Proper tire recycling – as well as other rubber products like tracks – will help give a new life to their components.
While there's a lot of change coming and some of it is already well underway, it's encouraging to see the construction (and tire) industry hopping on the train towards more sustainable practices, from manufacture to operations of equipment. We hope you enjoyed this article. Remember that if you need more information on our construction tires and tracks, your local dealer will be happy to help out!
---