Material Handling
|
Road Free
|
19.01.21
Delivery of the COVID-19 vaccine: discover the supply chain challenges happening behind the scenes
The good news has finally arrived, not only have multiple vaccines been approved for the COVID-19 virus but vaccination has also started in many countries worldwide. A global sigh of relief could almost be heard as the first doses of this much-anticipated vaccine started being delivered around the globe a few weeks ago. But to make this all possible, the vaccine must travel great distances and maintain some very strict handling requirements. We thought it would be interesting to share what's behind the scenes of what will probably be the biggest vaccination campaign in history.
Unusually high levels of supplies requiring urgent distribution

All the supply chain partners, whether big or small, are facing a colossal task. In addition to having an unprecedented amount of supplies they need to distribute, they need to be distributed immediately while upholding very specific safety and temperature conditions.
In the image below, we've put together most of the logistics and handling steps between the vaccine and patients. If one were to go further, we could even mention the logistical steps that are necessary before it is even produced.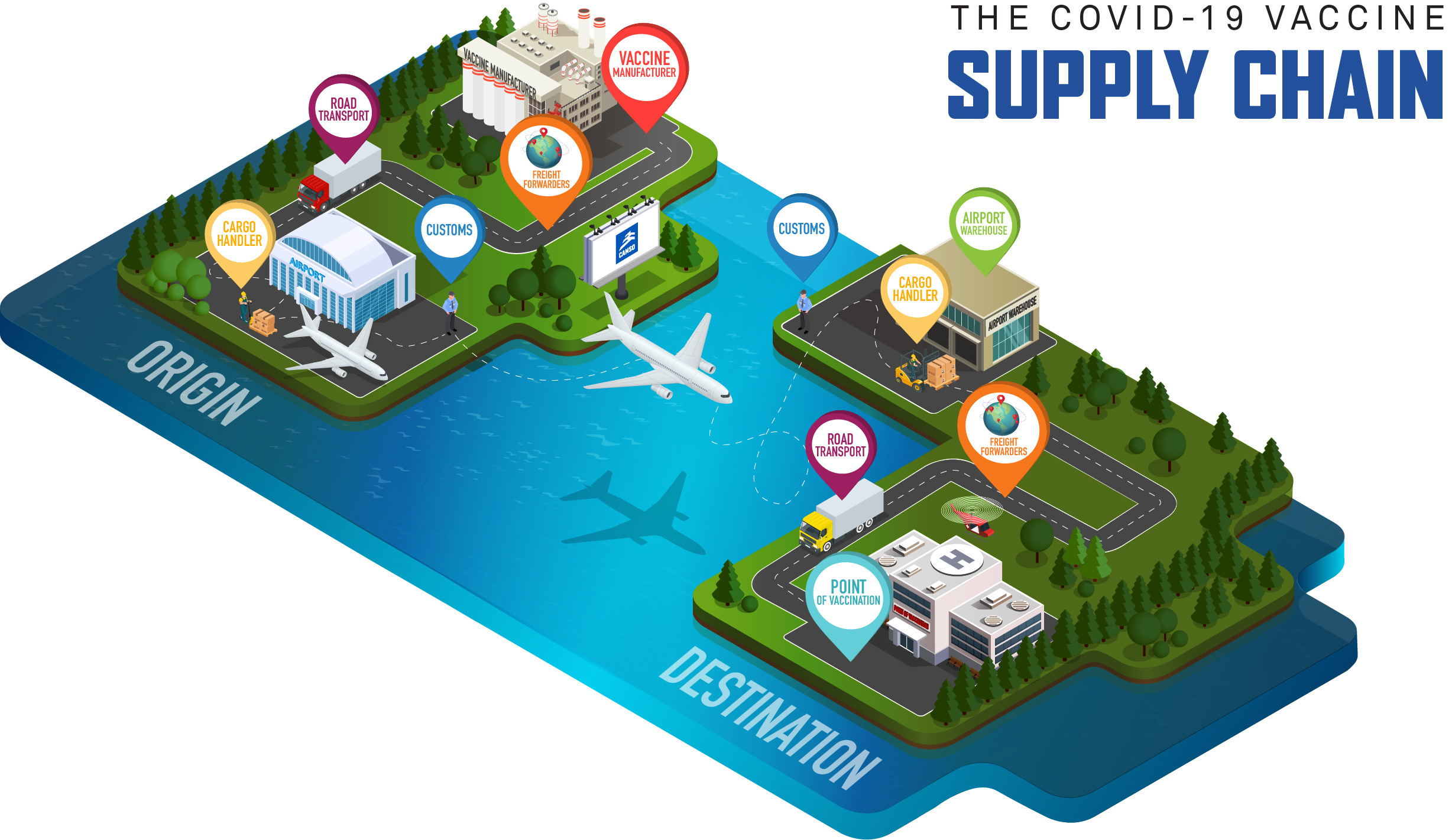 Here are some estimated numbers to put the challenge into perspective*:
10 billion doses needed to cover 70% of the world population
15 million cooling boxes required for transit
15,000 flights (Boeing 747 type)
200,000 movements by pallet shipper
Add to this the complexity of transporting medical supplies*:
Different vaccines will have variable temperature requirements (from -70oC to +8oC)
For lower temperatures, a total of 276 kg of dry ice per pallet could be required, making for potentially very hazardous transport conditions
From the vaccine manufacturers to airports to local health authorities and ultimately every point of vaccination where patients are getting vaccinated, organizations such as ours, a tire manufacturer, will be put to the challenge of ensuring efficient transport for this complex journey.
Indeed, material handling and logistics organizations rely on our mobility products and on-site service of equipment to ensure the uptime of their operations as well as product availability in order to beat the clock for transport of the vaccines.
Ground support handlers are getting ready
Some major ground support equipment players are currently involved in making sure there are no supply chain interruptions in this extensive distribution operation. Swissport for one, is busy implementing operational requirements for the handling of such highly temperature-sensitive cargo. They just opened a brand new 17,000 square meter facility at the Frankfurt airport to handle the increase in freight volume for such shipments. They also expanded their state-of-the-art facility in Brussels.
Camso and its partners is expected to play a key role in making airport ground support handling more efficient with the help of our complete, multi-branded range of material handling mobility solutions. More than ever, safety and reliability remain constant requirements for our clients when managing their ground support, warehousing and logistics equipment.
With over 375 mobile units around the world, we will also rely on the strength of our Solideal on-site services to perform urgent maintenance and maximize equipment uptime on any forklift tires and wheels.
As we all go through this global crisis, we remain dedicated to partner with our clients to ensure operations that are efficient and safe so that they can successfully complete their mission of delivering the COVID-19 vaccines.
__________________________________________________________________________
*Source: IATA webinars on Transport of vaccines
Disclaimer: this article does not provide medical advice or expertise about COVID-19 or the COVID-19 vaccine. It only aims to portray the logistics issues behind the distribution of medical supplies worldwide.
---