Construction
|
Best practices
|
19.11.20
Operation, maintenance and storage tips for your construction tracks this winter
If you're located in an area where winter conditions are a part of your reality, you probably already know that snow, ice and cold weather all have an impact on your construction equipment, as well as your application. Indeed, construction machinery working in weather below 7 °C (44 °F) is considered to be working in winter conditions that can affect life and uptime. We sat down with our tracks experts, who pointed out a few guidelines to ensure maximum uptime and performance of your tracked machines.
Carry out regular inspections and daily checks of undercarriage
As with any condition, we recommend conducting daily checks prior to operating your mini-excavator, compact track loader (CTL) and other tracked equipment. Inspect your tracks for cuts, cracks, and internal component exposure to avoid premature failure. Monitor your machines closely, removing snow, ice and debris from the undercarriage and the track. Make sure to also check for appropriate tension during your regular checks and follow our tensioning guidelines for CTL, for mini-excavators, and for over-the-tire tracks (OTTs).
Working with snow, ice and cold water creates the perfect conditions for material build-up, which can cause track misalignment, de-tracking, sprocket wear, and over-tensioning. Just as you would do when working with abrasive materials, a clean undercarriage is a happy, healthy one. Clean dirt, salt, mud, snow, and ice after each day: this is truly helpful to prevent build-up of frozen materials. Plus, it'll make your daily checks easier at the beginning of your workday.
To ensure that your machines offer maximum traction in slippery, snowy and icy winter applications, look at how worn your tread is. Make sure to add this point to your maintenance checklist, as it is key to have maximum tread for optimal performance in winter conditions.
Our experts' recommendation: ask your local equipment dealer to carry out an inspection of your equipment prior to winter, including an undercarriage and track inspection.
Adjust operator behavior for winter conditions
The rubber of your tracks is going to be more rigid and brittle in cold conditions, so it'll be less likely to flex as easily as it does in warmer summer conditions. While avoiding spinning is a good way to extend track life in any condition, it is especially key to extend track life during winter when rubber is stiffer. Two birds, one stone: it'll probably make for a more comfortable ride, too!
Mother nature's white blanket sure looks beautiful on the ground, but be careful when working on snow-covered surfaces. You may come across some unwanted surprises beneath the snow that can cause damage to your rubber tracks and undercarriage. To prevent unnecessary, premature wear and extend rubber track life, also avoid large chunks of sharp objects such as jagged ice and rocks, or frozen chunks of debris. In general, beware of slick, icy surfaces, as your equipment may tend to slide more easily across these surfaces, which causes potential operator safety issues.
Our experts' recommendation: stopping distances will be increased on snow, ice, cold hard work surfaces and slopes; adapt your driving accordingly.
Take the necessary measures to properly store your equipment
Cover the machine or store in enclosed facilities, especially if parking the equipment for extended periods in the winter. Any time you can remove the equipment from the harsh outdoor conditions, it'll extend the life of the equipment, a rule that applies to replacement parts, including rubber tracks. Winter can be especially harsh with snow, ice, sleet, and constant temperature changes to and from freezing temperatures. Barns, sheds, garages, car ports, or even a tarp can help extend the life of the equipment and undercarriage wear parts.
If you must park the equipment outdoors, then find an area that will not get the equipment frozen into its place or covered with snow. Sloppy or muddy conditions can turn into frozen surfaces overnight. Parking the equipment in those spots at the end of your shift can cause a whole slew of challenges for you later on, which could include extra wear on those tracks and undercarriage components when trying to dislodge the equipment. Make sure not to freeze yourself in! Look for dry flat surfaces that also won't be subject to snow drifts.
Our experts' recommendation: if you can, avoid storing your equipment in the cold, harsh winter weather and choose an indoor facility to extend rubber track life.
Equip your machinery with the right product for winter conditions
We recommend the Camso SD Series for maximum traction on track loaders: it's a track that has proven great maneuverability on ice. The biting lugs in zig zag tread patterns and self-cleaning tread steps ensure that you get through snowy and sloppy conditions that often affect winter job sites.
Here's a test our team carried out on ice with a compact track loader:

Turn your skid steer loader into a mini tank with over-the-tire tracks
If you're looking for maximum traction and flotation for your skid steer loader without having to invest in a CTL, turn your skid steer loader into a tracked machine with our over-the-tire (OTT) tracks. They provide excellent performance during the winter season, offering the major benefits of a track loader for snowy and icy conditions, at a fraction of the cost of a new machine.

While you're here, here is our final safety tip for you this winter
Harsh weather conditions are not the only additional issue that winter brings to your construction equipment. Winter months are also a time when there are fewer hours of daylight time on job sites. It can be harder to carry out proper inspections of your equipment and the undercarriages without good lighting. Furthermore, watch out for increased rates of operator fatigue. These are key elements to keep in mind to ensure your teams are working in safe, productive conditions. Want to dig a little deeper? Learn more about rubber track technologies and tips to extend life in this article. To view our complete range of construction tracks solutions for all seasons and applications, visit our website's construction section.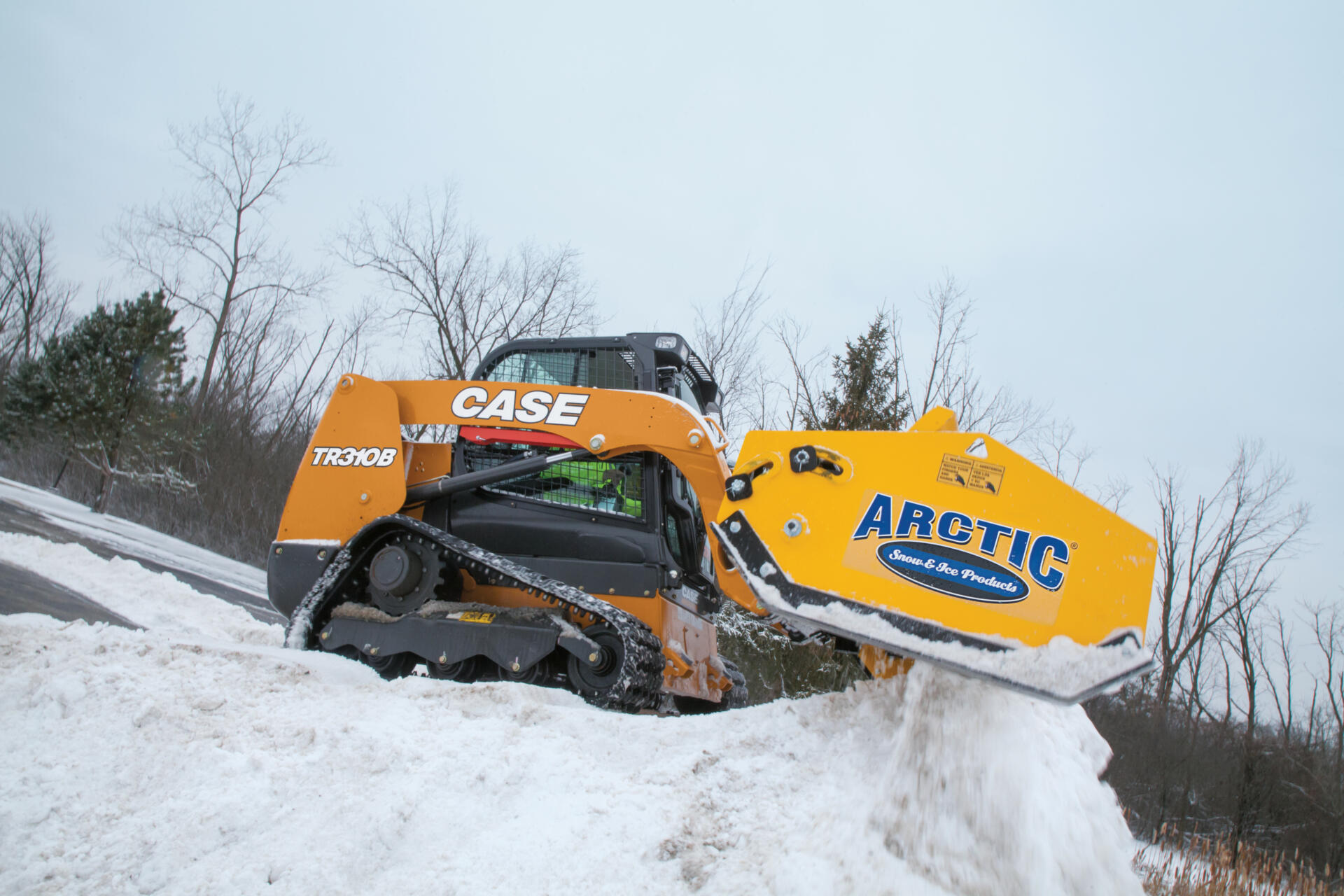 ---