ATV / UTV
|
Além da Estrada
|
16.12.am
Plowing and grooming snow with tracks at a ski resort
As a tire, track and track systems manufacturer, our number one goal is to build products that can take on the challenges our customers meet, no matter what. When it comes to our powersports solutions, we know that the challenges can vary a lot in intensity – trail riding vs. mountain climbing, and application – muddy fields vs. snowy slopes. Out of all the options possible, one of the most extreme use cases we found are ski resort maintenance fleets: their teams work in conditions that are at the mercy of Mother Nature, with icy patches, trails packed with heavy snow, or even muddy in shoulder season.
We recently sat down with Claude Thibodeau, who has been the Maintenance Supervisor for Bromont, montagne d'expériences' fleet of snow grooming, mountain maintenance and ski patrol machines for the past 10 years. The mountain, which offers the largest lit ski area in North America, manages multiple challenges in order to be able to offer skiers and snowboarders top notch conditions day and night.
Managing the maintenance fleet of North America's biggest night skiing resort: Q&A with Claude Thibodeau
Camso: Hi Claude! Thanks for taking the time to share your experience, we hope it will inspire other ski resorts and powersports enthusiasts around the world. Let's dive right into it: what are the biggest challenges your machines working on the trails come across throughout the season?
Thibodeau: "Since our busy season is the winter, it's a given that steep snow terrain represents an important challenge for our fleet. Add to that multiple shifts per day – our ATVs and UTVs are working nearly 24 hours a day to guarantee the best snow conditions to our clients. While the resort is open to the general public from 8:30 AM to 10:30 PM, our maintenance teams also hit the slopes from 11:00 PM to 7:00 AM. This means our machines need to be up and running in order for our staff to safely access all areas. Conditions can get pretty harsh and often require more technical driving skills: there are some vehicles that simply can't make it. If it weren't for the track systems, our ATVs and UTVs couldn't access some parts of the mountain either."
Camso: Are there different challenges your team comes across during shoulder seasons?
Thibodeau: "Definitely! When it comes to fall and spring conditions, it gets extremely muddy because of melting snow and rain, making the trails nearly impossible to access on wheels. The tracks offer an all-year round solution to get where we need to go, when we need to get there."
Get to know the mountain: Bromont, montagne d'expériences in numbers

Location

Bromont, Quebec, Canada

Terrain

450 acres of skiable terrain

141 trails, including 101 lit trails

Logistics

9 chairlifts

1,300+ snow guns

4,000 trail lights




Staff

1,200 winter staff

850 summer staff

Fleet

32 ATVs

5 UTVs

13 snow groomers

7,000 to 8,000 km traveled per machine, per winter
Camso: Can you name the top benefits you've experienced using ATVs and UTVs mounted on conversion track systems?
Thibodeau: "One thing that's very important to us is the safety of skiers and riders, which is a key advantage of ATVs and UTVs. In comparison to snowmobiles, they are a lot more manoeuvrable, they travel at lower speeds and are easier to control. Furthermore, these machines have been designed to work, and they perform well even in the most severe conditions. The second advantage that comes to mind is versatility. We're able to use ATVs and UTVs all year round: on track systems two thirds of the year, from November to May, and on wheels in the summer. Snowmobiles, on the other hand, can only be used in the winter. They're good machines too, just not as versatile. Third advantage we noticed is efficiency. Since we switched our entire fleet to ATVs and UTVs, our fuel consumption has considerably reduced, and we've lowered maintenance and vehicle costs. A final advantage I can think of is accessibility, which is a big plus. We can literally go anywhere, from steep hills in deep snow, to icy slopes, to muddy trails in the spring. We can go all over the mountain without damaging terrain, all while ensuring both staff and customers are safe."
Camso: Do you have tips or words of wisdom for fellow mountain maintenance managers or ski resorts that would like to convert their fleets to tracked ATVs and UTVs?
Thibodeau: "If there is one thing to keep in mind, it's that the golden rule when it comes to track systems is maintenance. Also, look for providers who offer top of the line service and warranty. We're working hard out there, in challenging environments – a good warranty combined with a dedicated customer care agent makes a big difference on uptime. Lastly, stay open to innovation! At Bromont, montagnes d'expériences, we've partnered with Camso's R&D team to field test their track systems. It truly is a win-win at the end of the day: we get top of the line systems for our machines and Camso gets direct results from extreme conditions in the field to continuously improve its products."
That concludes our conversation with Claude. Even if you're not a big ski resort like Bromont, montagne d'expérience, track systems offer a great option when you want to use your ATV or UTV in more extreme conditions, whether it's for work or play. Learn more about our conversion track systems and find the right one for your ride: ATV and UTV track systems.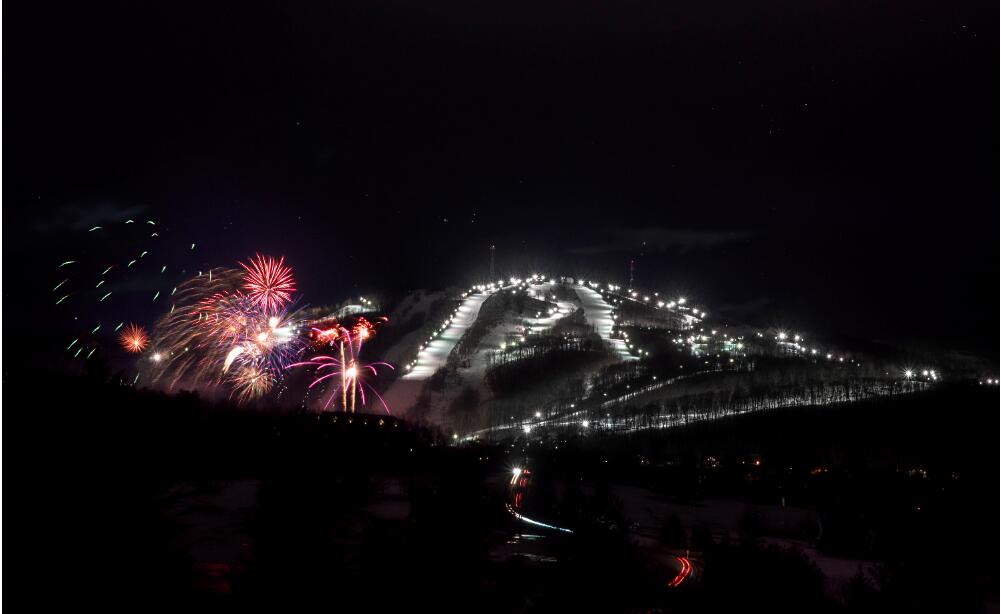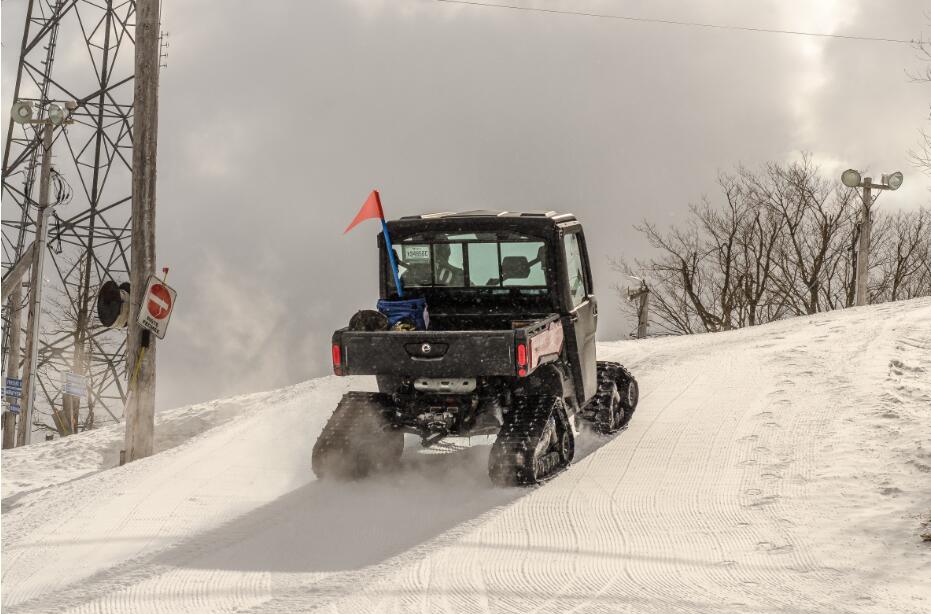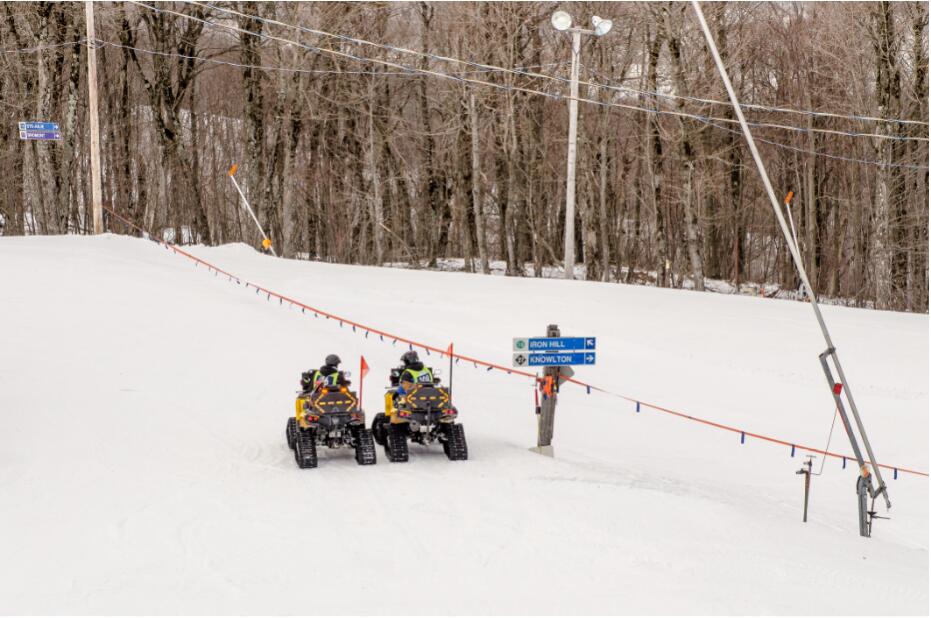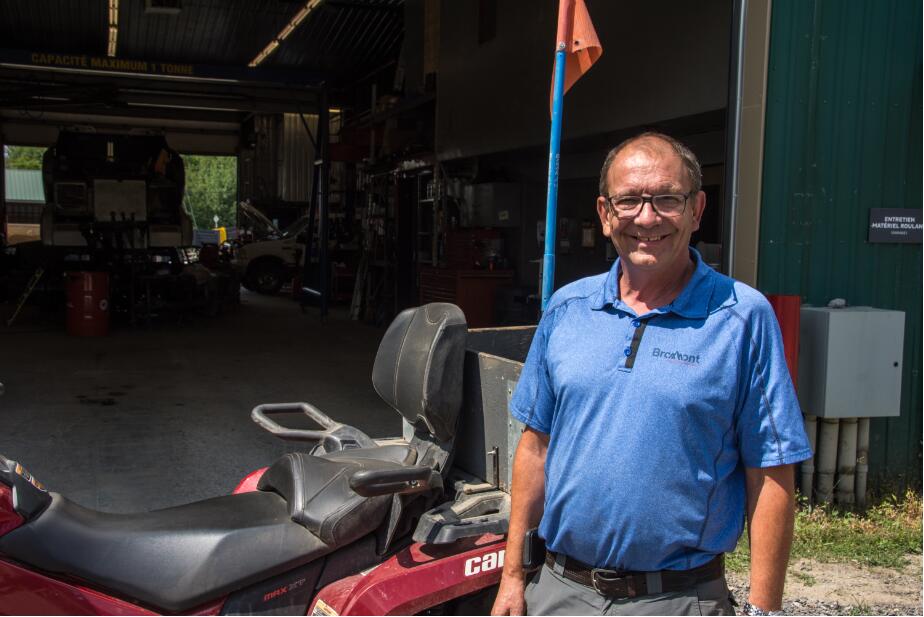 ---