Material Handling
|
Voz do Cliente
|
02.06.am
From Food & Beverage to Pulp & Paper: discover how Camso non-marking tires deliver on performance
Non-marking forklift tires have become increasingly popular, and this among a wide variety of industries where clean running is not only desired, but also a requirement. From Food and Beverage, to Pulp and Paper, Pharmaceuticals, Chemicals and other manufacturing industries, the black dust on products and tire marks on the floor that regular black tires leave behind are just a no-go.

We recently sat down with our experts to take a closer look at 8 factors you should consider when choosing a non-marking tire solution, as well as some myths we've been hearing in the material handling industry when it comes to the color of non-marking tires. While these two articles offer a great overview of the non-marking world, we believe that results speak for themselves when it comes to proving that products deliver on performance. So, we decided to put together some of the customer feedbacks we received over the past few years to share with our readers more details on Camso non-marking tires, in regard to the various requirements and applications of 4 industries:
Pulp & Paper – PON 775 NMAS and Mangnum NM
This customer, located in the state of Georgia (USA), is one of the world's leading producers of fiber-based packaging, pulp and paper products. Their plant mostly manufactures corrugated boxes, in an environment with high intensity application where a lot of cutting and impact damages are possible. Their forklifts are equipped with paper clamps for paper roll handling.
Prior to installing Solideal PON 775 NMAS and Magnum NM tires, the client did not face any issues with the competition's tires used on their forklifts. Staff told Camso representatives that they would usually replace the competition's tires every six months. When the time came to replace older clamp trucks, the customer bought two Toyota 8FGC55U-PRS forklifts, which came fitted with Camso tires. One forklift was equipped with Solideal PON 775 NMAS and the other with Solideal Magnum NM so that the client could validate which tire would work best for their trucks and application.
After six months of operation with the new trucks equipped with Camso tires, the results were quite clear: given the high intensity of the application at this plant, the Solideal PON 775 NMAS is the best tire for the client's application. In order to measure the intensity of your application, you can refer to our Maximum Lifespan tool.
Food & Beverage – Solideal Magnum NM
A leader in the distribution of Coca Cola and other beverage products in Mexico, this customer handles beverages in warehousing facilities, where they require non-marking tires for medium-intensity applications. Prior to using Camso tires, their trucks were equipped with a competitor's tires. After doing a performance evaluation on operating hours with Solideal Magnum NM tires on one of the client's forklifts, the results were impressive. Camso tires offered more hours of service than the competition.
Food & Beverage – PON 775 NMAS
This other client, Embotelladora El Jarocho S.A. de C.V., is also in Mexico. They are specialized in producing and distributing beverages, as well as delivering beverages to commercial chains, convenience stores and beverage companies. They are constantly improving processes and optimizing costs, which is why they have been relying and trusting Camso's Solideal brand for their forklift tires.
For years, they had been using Solideal SM NM, which has shown superior performance compared to other tires on the market. Seeking even higher performance and with the advice of Camso staff, they decided to test out the new Solideal PON 775 NMAS tire to see if they would increase performance. The team now carries out fewer changes and the tires have a longer service life, in addition to the tires offering greater stability.
"We are in a position to highly recommend Camso's new tire, the Solideal PON 775 NMAS. The tire has met our expectations and meets our commitment to improve operating costs." Juan Carlos Tello, Head of Forklift operations at Embotelladora El Jarocho S.A. de C.V.
Manufacturing (home appliances) – PON 775 NMAS
Located in Ohio (USA), this client called Camso to help investigate overheating and thermal blowout issues of non-marking drive tires on their new forklifts fitted with Cascade carton clamps. The customer is a manufacturer of home appliances and its machines can lift up to 12 washing machines at a time.
The client was using a previous generation of Camso tires, the Magnum Smooth Non-Marking, which were not able to cope with the high intensity of this application. They then switched to a competitor tire solution that was able to handle the intensity but could only deliver a tire life of one to three weeks – at best. The customer wanted to resolve the issues linked to thermal failure and short lifespan. For our experts, it was simple: their usage intensity and the application required a heat-resistant and long-lasting non-marking press-on solution. With its thermally-efficient construction and abrasion-resistant tread compound providing the great performance when it comes to heat resistance, energy efficiency and lifespan in high intensity applications, the Solideal PON 775 NMAS was the obvious choice.
After numerous service hours, the Solideal PON 775 NMAS proved to meet the requirements of this client in terms of heat resistance, energy efficiency and long-lasting life. Given these performances, the customer decided to install this tire on all the company's lift trucks - drive and steer.
At the end of the day, it's always about having the right product for your application. Whenever you have questions, we recommend talking to your local dealer for advice, tips and more. To view our complete line-up of non-marking tires, visit the Material Handling section of our website. If you'd like more information on the use cases presented here, don't hesitate to reach out to your Camso representative.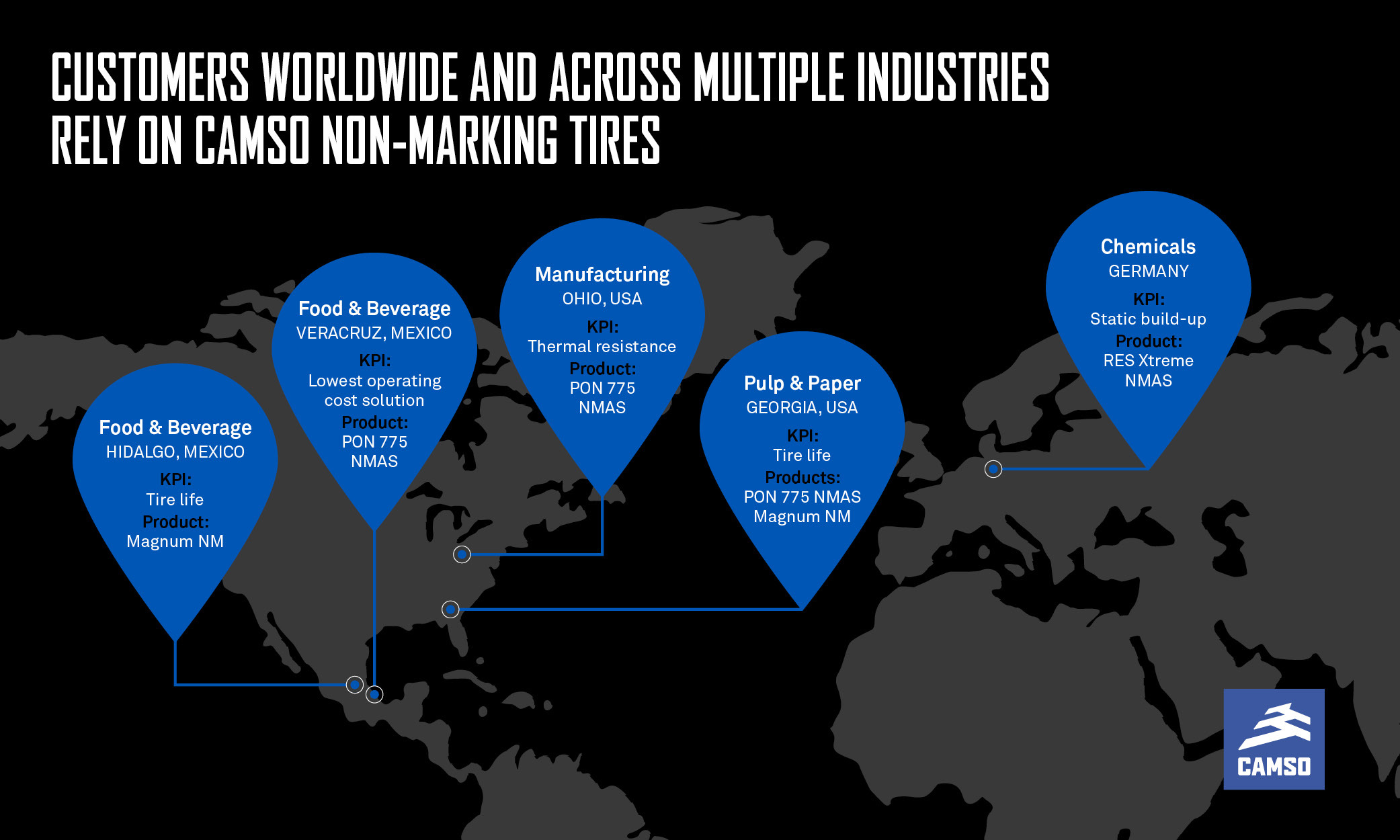 ---