Construction
|
Melhores Práticas
|
10.07.pm
Construction tracks basics: 9 questions to master rubber tracks
Are construction rubber tracks something you've mastered, or are you quite new to this technology? No matter where your knowledge finds itself on the expert's gauge, we put together a list of frequently asked questions about rubber tracks for construction equipment. Let's dig in!
What kind of machines are typically equipped with rubber tracks?
While most commonly used on compact construction equipment like mini-excavators, multi-terrain loaders (MTL) and compact track loaders (CTL), rubber tracks are found in various forms and can be seen on a wide variety of machines and applications. They can be used on utility equipment, drilling machines, pavers, military equipment, track carriers (or dumpers), and even some larger compact excavators to name a few.
What are the track technologies available in the industry?
There are three different technologies available for construction tracks:
Rubber tracks: this would be the most common technology. Much like their steel counterparts, rubber tracks are powered by the undercarriage of the equipment. For mini-excavators for example, engine power is transferred by a sprocket, while an idler is at its opposite side to maintain track tension, and roller wheels support the weight of the machine.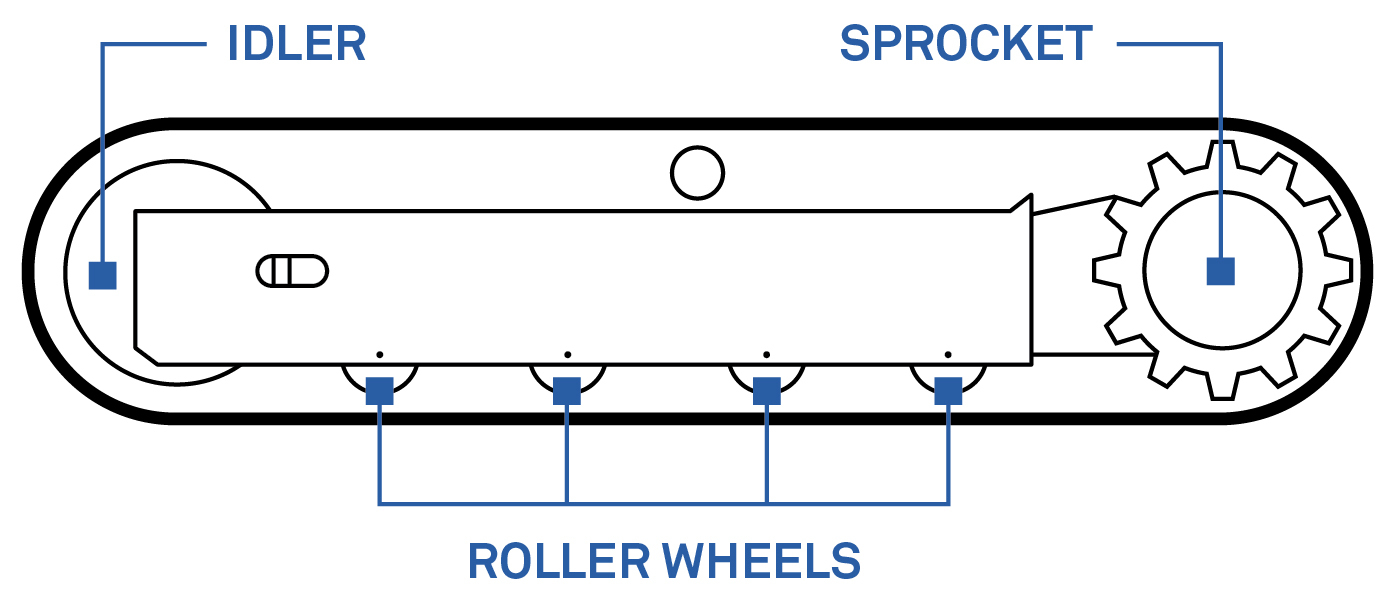 Over-the-tire tracks (OTT): are a temporary attachment that can be used on wheeled skid steer loaders in applications where they require more traction and flotation than their tires can offer. The track is mounted over the machine's tires, which transfer engine power.
Rubber pads: this is the newest track technology available on the market. Mostly used for excavators, we can find three different kinds of rubber pads: clip-on, bolt-on and chain-on. While the first two are either bolted or clipped onto the metal tracks, chain-on rubber pads are mounted directly on the chain that transfers power of the engine.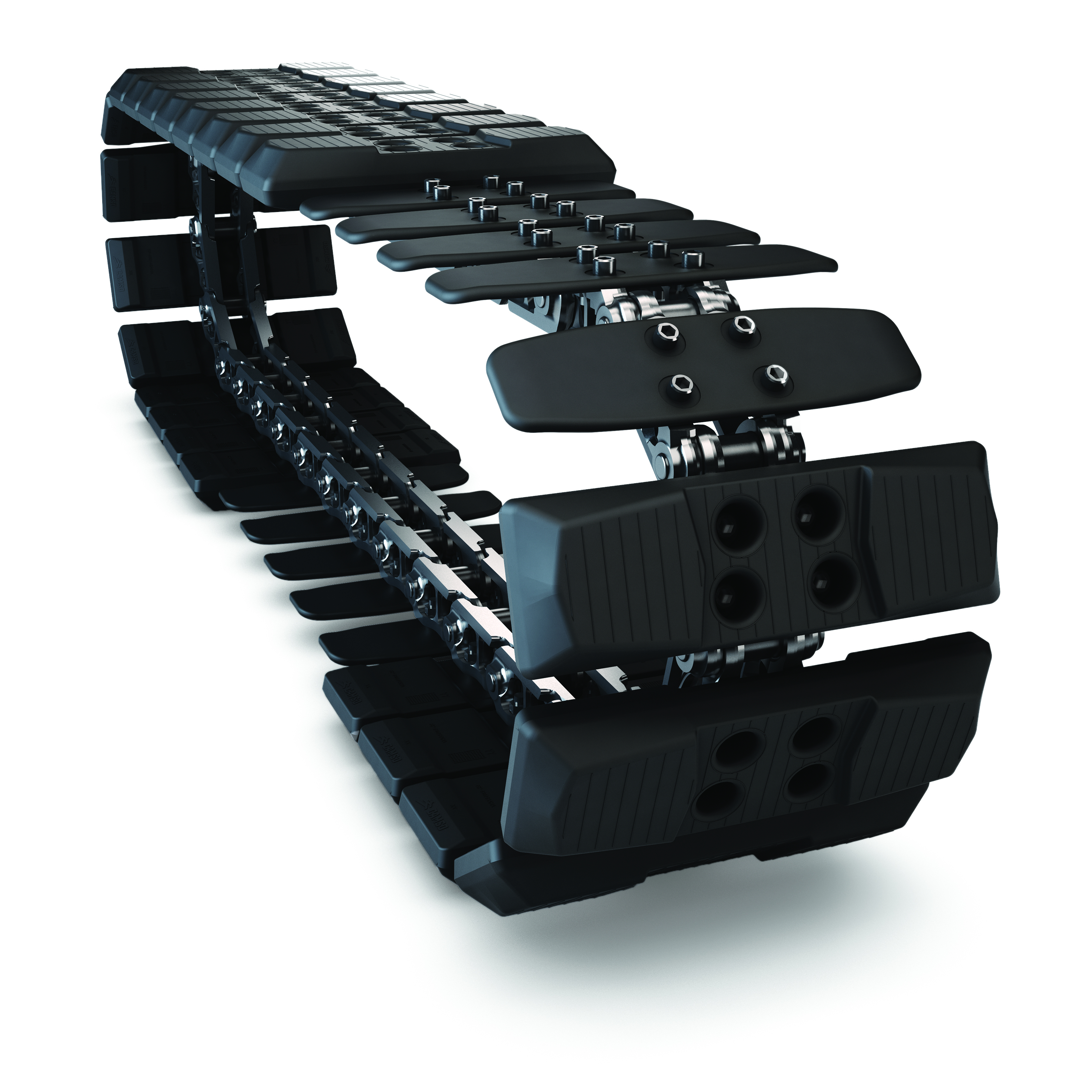 What are the most common issues linked to tracks?
There are numerous elements to take into consideration when choosing a rubber track, and in order to avoid unnecessary headaches, one must be familiar with common issues and how to avoid them.
Poor durability: make sure to select tracks built with premium rubber compound and a thick carcass. For example, at Camso, we guarantee premium-quality materials and workmanship, in addition to offering the industry-best warranty terms. This ensures our tracks offer maximal service life with predictable and reliable durability.
Poor traction: look at the tread design of the track to ensure you are selecting a solution that meets the requirements of your application. At Camso, we've patented a stepped-tread design to offer maximal traction.
Detracking: this occurs when the tracks fall off the undercarriage. Proper track tensioning and complementary technologies (ex: anti-detracking 3S feature) help to avoid detracking.
Poor ride quality: some tracks may offer a rougher ride than others due to their components, which may also lead to increased vibrations and excessive noise. Ask your dealer about operator comfort when selecting tracks. At Camso, we developed a patented 3S technology (silent, strong, smooth), purpose-driven tread patterns, and optimized rubber track geometry that is engineered for premium performance.
Cable breaking: in the carcass of a track, we find numerous components, including steel cables that can sometimes snap or break. Rely on tracks using endless steel cables to avoid this issue.
What are the benefits of rubber tracks vs. steel tracks?

Rubber track anatomy: what is underneath the rubber?
While we only see rubber when looking at rubber tracks, there's a lot more to be found in the carcass!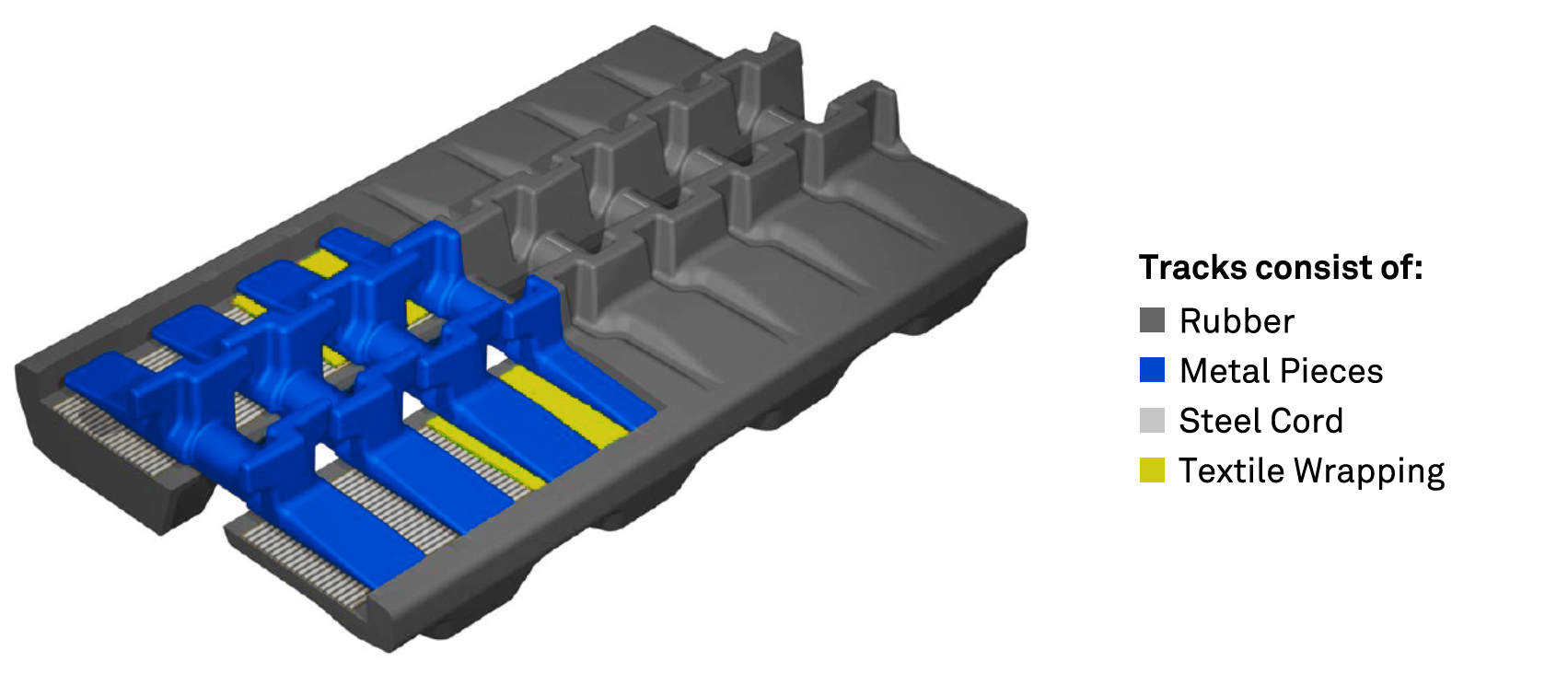 Rubber: this is the obvious component and the one we see! Choose a heavy-duty carcass to help prevent rock puncture — and ensure better life.
Metal pieces: while their main purpose is to engage with the sprocket to create drive, metal pieces in the track also reinforce the carcass. They are embedded between the under layer and the carcass rubber.
Steel cord: this component ensures the rigidity along the length of the track, while providing good resistance to tension. You'll find the steel cord between the metal pieces and the tread lugs.
Textile wrapping: a layer of textile is situated between the metal pieces and the steel cord in order to ensure consistent steel cord alignment.
What information can you find on the side of a track?
Just like on the sidewall of a tire, the side of a track offers a lot of information that can be useful. Usually, the most common information you'll find includes branding, part number, serial number and country of origin. For some manufacturers, like us, the serial number also contains a lot of information, such as the year of production, factory number, etc.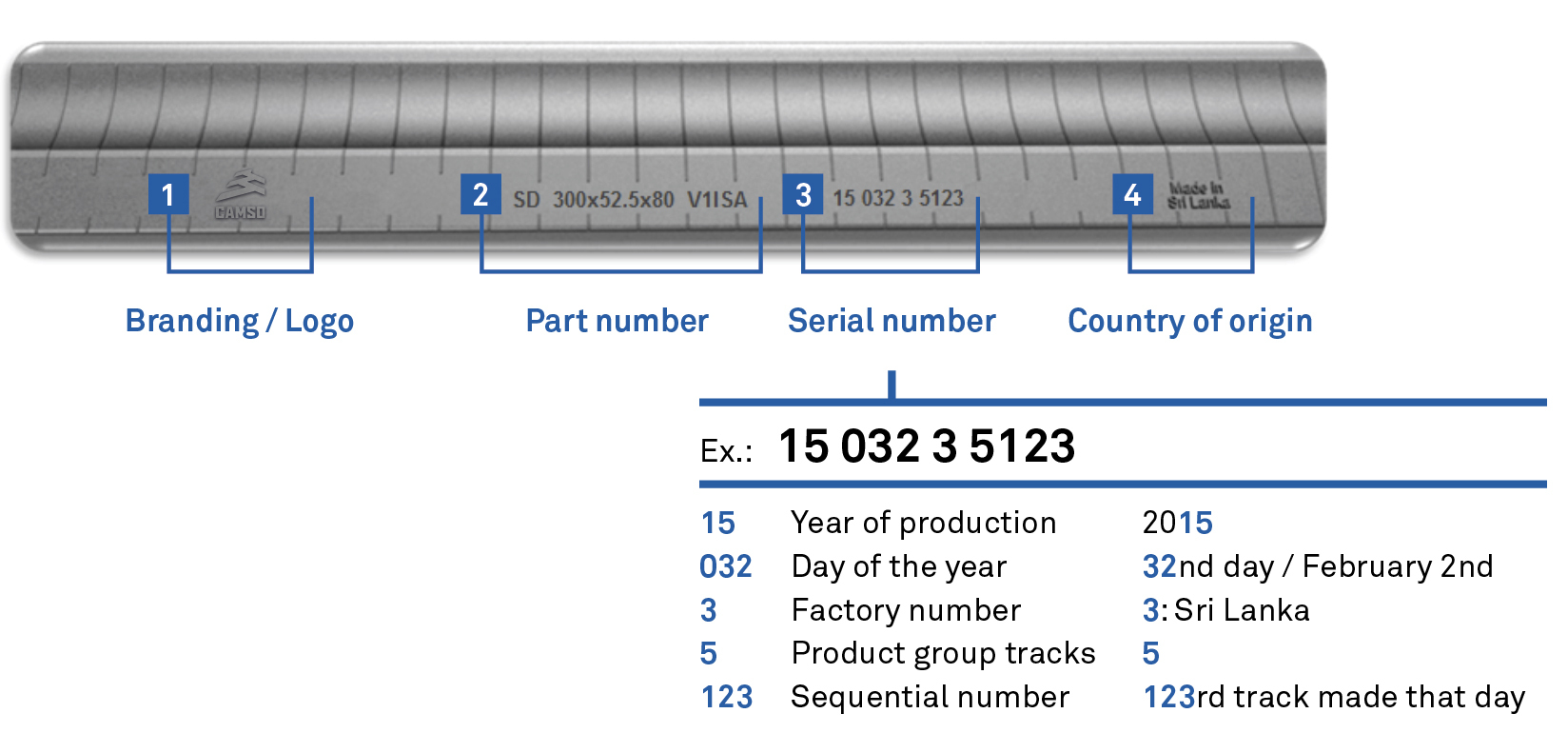 What is the difference between long pitch and short pitch?
A little bit of track history: historically, there have been two different pitch lengths for tracks: long or short. Short pitch means that the rubber tracks engage with every sprocket tooth, resulting in lower vibrations and reduced wear on the undercarriage and its components. Rubber tracks that use a long pitch engage with every other sprocket tooth and use half the number of metal pieces. We no longer see this, as the industry has moved away from long pitch designs, for durability, ride quality and safety reasons.

What are the wearing factors for rubber tracks?
There are seven factors that can potentially impact a track's durability and overall life. Controllable factors include track tension (this is without a doubt THE most important one, see next question for details!), weight of the load (machine + load), driving speed, and driving behaviour (sharp turns, working on slopes, etc.). The upside about these factors is the fact they are controllable: operators can therefore take preventive actions in order to avoid downtime. Uncontrollable factors are mostly linked to the working environment, such as ground surface and temperature, but there are also wear parts to take into consideration. While the operator can't influence these factors, there is still a way to work around them by taking them into account when selecting the right product for your application.
How can I maximize my tracks' life?
Tracks are all about the right tension and proper operator awareness. Without these two factors, you can easily cause damage to the tracks, undercarriage, and the machine. A trained operator is the most effective way to avoid problems that would increase your operating costs.
There are four factors that can help reduce premature track wear:
Machine operation
Good operating techniques: avoid spot turns, spinning, constant operation on slopes, and contact of the side of the tracks on curb lines and make sure to use trailer plates for loading on a trailer, etc.
Avoiding abrasive material: abrasive and corrosive materials will cause premature wear of the rubber. Try to avoid exposing the tracks to scrap iron, broken stone, high heat, fuel, oil, and salt. If your application requires working with such materials, daily cleaning of the undercarriage with clean water is highly recommended.
Preventive maintenance
Correct tension: it's important to maintain proper track tension as specified by the machine manufacturer. In order to ensure proper tensioning, drive the machine forward to ensure even tension on both tracks, level and lower the bucket to the ground, use the bucket to lift the front of the machine off the ground (approx. 8") and measure the distance from the inside of the track to the bottom (at middle mid-roller).
Regular and rigorous maintenance: carry out daily inspections of the tracks and undercarriage to ensure everything is in good shape. Replace worn parts if necessary.
That's it, folks! We hope this article helped you better grasp the basics of rubber tracks. They are a key component to various construction equipment, and when used according to proper operational guidelines, they will help improve productivity, ensure machine uptime, increase performance, and last but not least, help you carry out safe operations. To learn more about our Camso Construction solutions, visit the tracks section of our website. If you have further questions, don't hesitate to reach out to your dedicated local dealer: they are your best partners!
---