Forklift servicing and maintenance are key to ensure maximum uptime. But what happens when the machines are stopped for an extended period of time? Whether it's a rental machine that's not always in service, slower operations, or lower manufacturing production levels, these situations can leave machines sitting idle.
The good news is that for many fleet managers around the world who have seen operations slow down and sometimes shut down completely over the past few weeks due to the global crisis, idled machines are not new to the Material Handling industry. We thought it would be a great time to share with you our experts' advice on proper forklift maintenance, tire servicing, and what to avoid to keep downtime to a minimum.
What are the main wearing factors to look for when a forklift has been idled for a while?
The easy answer: inspect your tires. What shape are they in? Are they worn? Do they have impact damage? Tire wear can lead to even more downtime and serious risks: read more here. To help you assess your tires properly, here's a reminder of the signs of wear by forklift tire technology:
Resilient (or pneumatic shaped): the 60J line, your best ally!
Make sure your tires are not worn beyond the top of the 60J line (or safety line).
· Pro tip: Some resilient tires with a tread pattern don't need to be replaced because they have become smooth. Make sure to refer to the 60J line when unsure! And remember, if your application requires tread pattern, you can regroove smooth tires up to the 60J line without affecting performance or warranty.
Press-on (or cushion): 1/3 of the rubber gone means replacement time!
Replace press-on tires when the overall rubber height has reached 2/3 of its original height. You can also look for a safety line if the tire has one.
· Pro tip: You don't need to run traction tires on steer axles. Smooth tires work fine in this position on the lift truck since they don't require traction like the drive axles. You'll improve thermal capacities and consequently increase life performance.
Industrial Pneumatics (bias and radial): like a car tire, if there's no tread left, it's time to replace it!
Use a tread depth gauge to see exactly what tread depth is left on your tire.
Look for punctures or signs of impact on your tires: if cords or plies have been damaged, the performance and stability of the tire is compromised, and it should be replaced.
Pro tip: Make sure to maintain your tires' air pressure, as failing to do so can cause unusual wear patterns and reduce the life of the tire.
Other elements to look for are signs of damage caused by impacts, like missing chunks or sidewall damage or bulges. These can affect trucks, create stability issues and safety hazards, generate stress and fatigue for the operator and could even cause pneumatic tires to burst under load weight. Lastly, look for uneven wear of the tires, no matter the technology. It may indicate some other maintenance issues with bearings, kingpins, steering linkage, and more.
If you'd like more information on tire wear by tire technology, our training video series on tire wear is the perfect resource!
Is specific maintenance recommended before using trucks that have been stopped?
If you carry out a good inspection of the machine and tires, you should have things covered. As a preventive measure, we recommend using a torque wrench to ensure that wheels are tight and torqued to the required specifications. It can also be a good time to share with your operators some reminders of safety measures and best practices. For instance, encourage them to "Take a minute!" before they hop onto the forklift. Why not run through a safety checklist, making sure controls, brakes and other basic driving features all work?
Here's a printable checklist reminder you can use* and download here.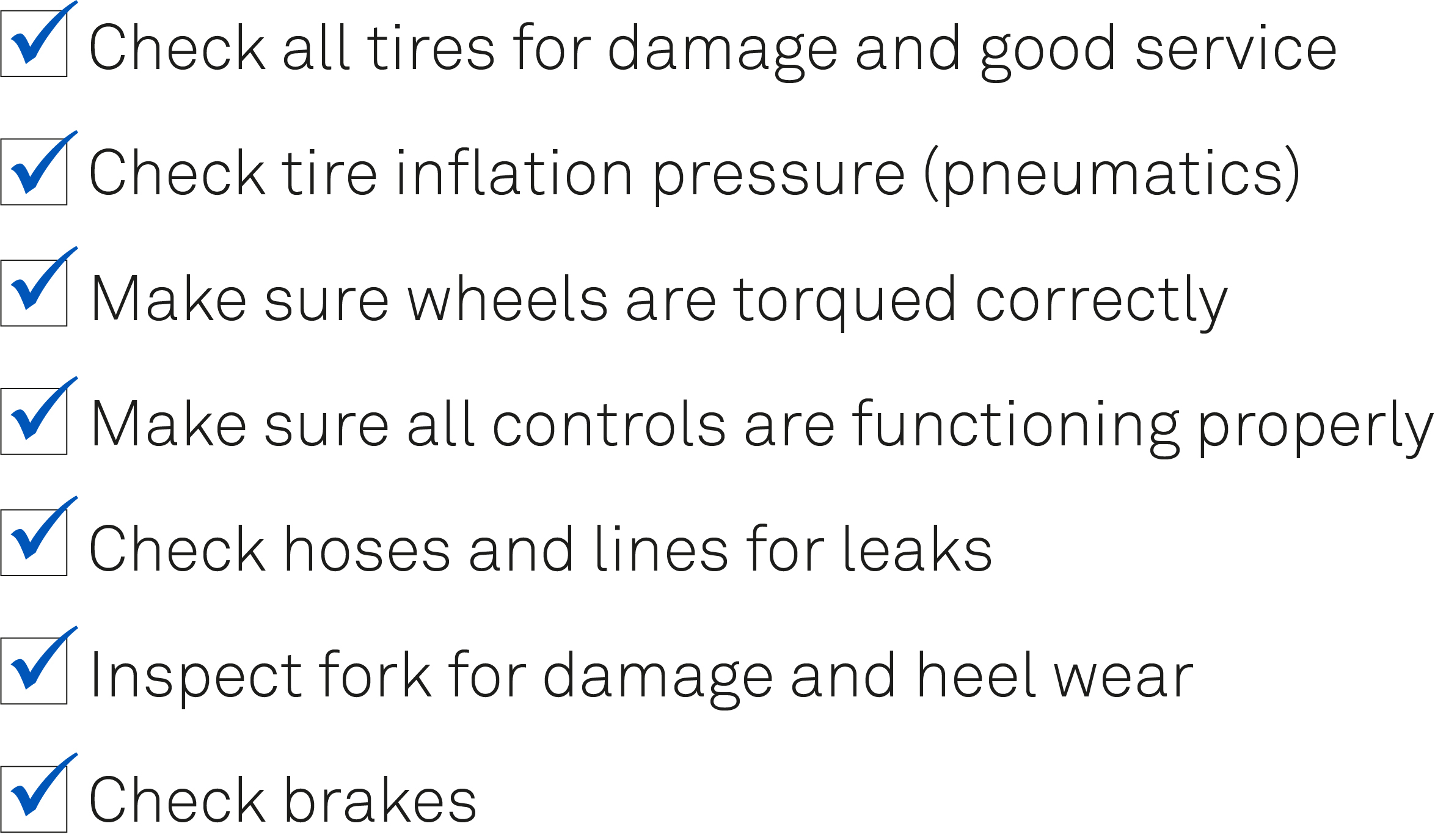 *This is a list of good practice items and should not be used as a substitute for proper training and machine maintenance by a qualified professional.
If during the inspection you realize that you need to replace the tires, make sure that you have the right product for your application. For instance, if a product is not delivering on promised performance, we recommend calculating the usage intensity of your application online or talking directly with your tire dealer.

What to avoid: save yourself the unnecessary headaches
While we have you here, we decided to also share some advice that will definitely help you steer clear of unnecessary troubles. Here are two questions that we've answered on a regular basis over the years.
Why should I replace my press-on tire when it's at 2/3 of its original rubber height? I think I can run my tire further and that there is still plenty of hours in it. Yes indeed, it may look like there is still plenty of tire life but keeping a tire that is worn can only mean more issues. Press-on tires are designed to carry loads until they are worn, so exceeding the wear limits of the tire means that the tire is operating at reduced capacity, which can lead to a sudden failure. Longer downtime isn't the only issue here: reduced ground clearance between your forklift and the work surface can cause damage to drive line components and risk a potential impact of the mast on dock plates and ramps as well as risk excessive wear to the fork heel. Lastly, as tires are the only suspension a forklift has, low rubber height causes machine shocks, which will wear bearings, steering linkage, kingpins etc. Side note: We don't see the same wear issues in resilient or pneumatic tires for very simple reasons. Resilient tires have multiple layers, and beyond the 60J line is the middle layer, which wears very quickly, taking the machine out of service. For pneumatics, when you run out of tread, you are wearing the carcass and, eventually, they just can't hold air.
I need to replace my forklift tires, but I'd like to use a different size than the OEM recommendation. Could you show me bigger tires, which I believe would be better suited for my machine? This one's a big no-no. There's a reason OEMs recommend specific sizes for their machines, and it is critically important for forklifts, given the nature of their work, as they lift heavy loads at impressive heights. Fitting a forklift with a tire that is bigger than the OEM recommendation will impact the center of gravity of the truck, leading to important safety hazards—think about the difference between driving a sportscar versus a SUV.
That's it folks! If you apply all these tips as your fleets get back into action, you should be in for some smooth operations with minimal downtime. And always remember: when in doubt about technology, product performance or tire size, your dealer is your best ally! For those of you who would like to learn more on the impact of tire wear and when to replace tires according to their technology, we put together this article with short video trainings.
---