Dirt bike riders looking to extend their riding season need to look no further than Camso's DTS 129 dirt-to-snow bike conversion system.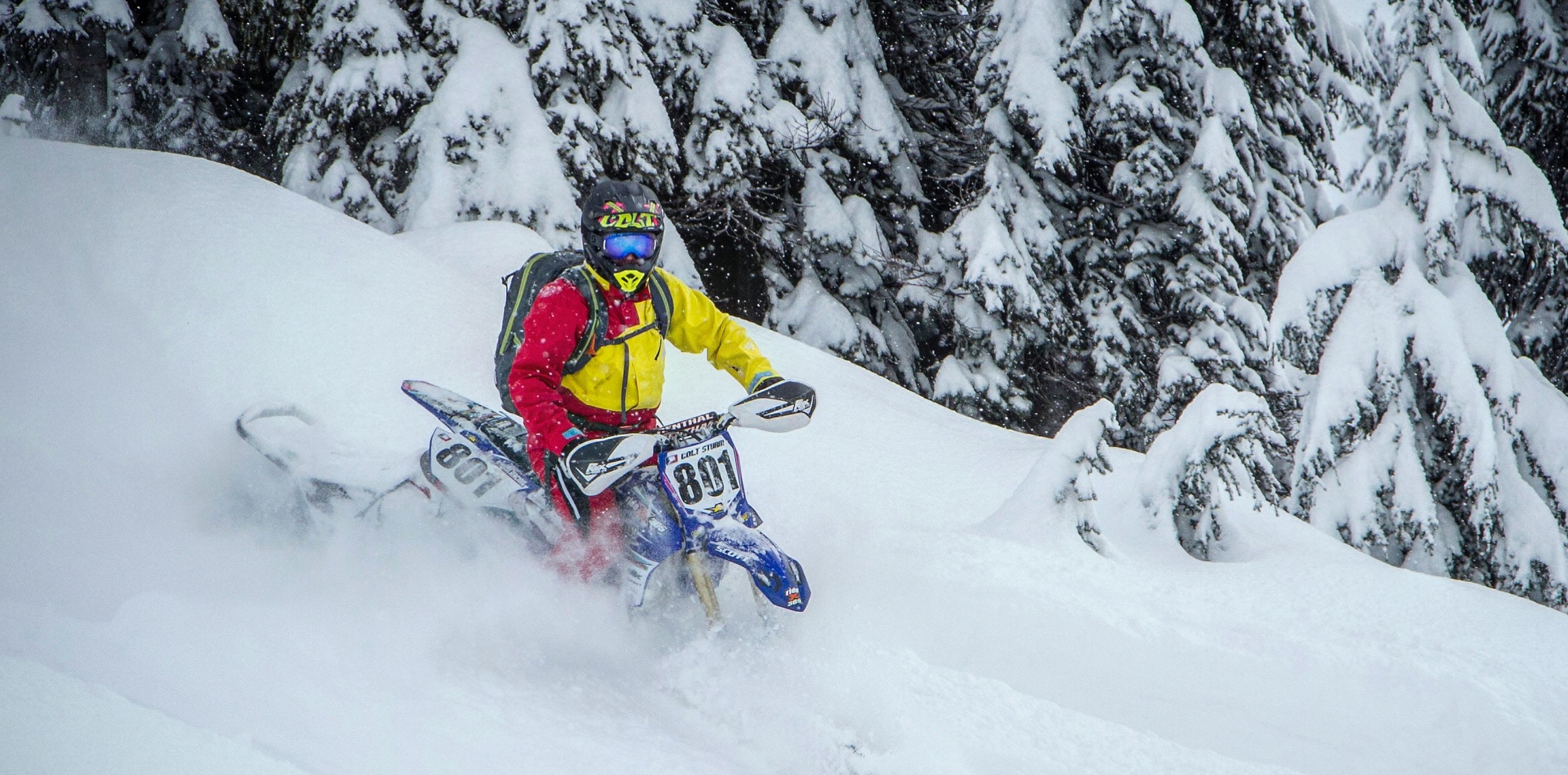 Thanks to Camso's dirt-to-snow bike conversion system, off-road motorcyclists can enjoy their favourite outdoor activity year-round.
Camso has an extensive history of developing highly engineered, reliable products for the powersports industry. Creating a DTS conversion system that could easily be used on a wide selection of dirt bike models was the next logical product offering.

Plug and Play
The ski and track components are ready to install right out of the box. A first conversion from dirt to snow typically takes about two to three hours, but that installation time can be cut in half once the bike owner gets familiar with the process.
The system even comes with an integrated braking system. While there is no actual front brake on any snow bike, the Camso DTS 129 track unit comes with an inboard double piston caliper and disc brake that provides efficient braking in all conditions. It also includes a pre-bled brake system with a right hand brake lever and master cylinder. Just bolt on the brake lever and you're ready to go.
An application guide has been published, with new motorcycle models added regularly.
Handling
It won't take long for an experienced rider to get accustomed to riding a snow bike. The Camso DTS 129 system has been designed to keep your motorcycle's original balance and dynamics. By keeping it handling like the dirt bike the rider is already familiar with, they will quickly be able to achieve excellent all-round performance, regardless of the terrain.
Up front the unique four keel ski design provides stable and predictable handling in all winter conditions. The two central keels have carbide blades to bite into snow and ice, while the replaceable side keels allow smooth side-to-side transitions and excellent grip, even on side hills or when cornering hard. The ski's lower pivot point also improves stability in choppy conditions.
Weighing in at 145 pound (66 kilos). Thanks to its excellent weight distribution, it feels even lighter when out riding.
Reliability
As a specialist in off-the-road tracks and track systems for everything from farm equipment to snowmobiles, Camso has drawn on its extensive know-how to create a system that stands up to the toughest conditions. The Camso DTS 129 track system is made with high density polyethylene (HDPE), a highly resilient material designed for use in low temperatures. This technology has been used in our ATV and UTV track systems for many years, and has proven its reliability.
That quest for reliability prompted Camso to opt for a chain driven track system rather than a belt drive. That's because chains are more compact, affordable, and easier to maintain. As an added bonus, knowledgeable riders can choose between three sprocket sizes (15, 17 and 19 teeth) to achieve their performance objectives.
When designing the DTS 129 conversion kit, Camso decided to keep things simple. Drawing on its expertise in building track systems, Camso has developed a complete all-round snow bike solution that has proven itself in all winter conditions, from deep snow to trail riding.
The Camso DTS 129 is available through more than 4 000 powersports dealers worldwide and covered by a best-in-class two-year limited warranty.
Camso has a dedicated service team and experts that are available to answer every questions or users' needs. They provide riders with solutions and keep improving the product rang in order to enhance the rider experience.
---